Drivers' interest in electric cars strong despite coronavirus uncertainty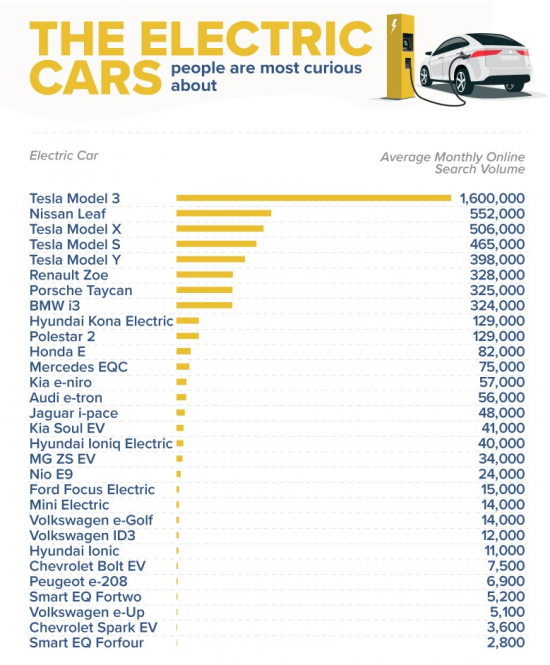 A study earlier this year concluded that electric cars are much better for the climate than petrol cars in 95 per cent of the world. Other research last week found that on a yearly basis, electric cars (9,435 miles) are driven 26 per cent more miles when compared to petrol cars (7,490 miles).
These remarkable statistics, alongside the fact that people have more spare time during lockdown to thoroughly look into electric cars, inspired private number plates provider Click4Reg to discover which pure electric cars people are most curious about based on online search data using analytics tool Ahrefs.
The key findings from the research include:
Tesla Model 3 is the electric car people are most curious about, with an astonishing 1.6 million online searches a month – equivalent of 53,333 searches everyday
Nissan Leaf (552,000) and Tesla Model X (506,000) each receive over 500,000 monthly searches online
The Porsche Taycan (325,000) and BMW i3 (324,000) are each gaining more than 300,000 online searches per month
Smart EQ Forfour (2,800), Chevrolet Spark EV (3,600), Volkswagen e-Up (5,100) are among the electric vehicles that people are least curious about
Additionally, from a survey of 1,844 drivers interested in – but not owners of –  electric cars found that:
39 per cent stated they wanted to get a pure electric car this year (2020) but are not going to anymore because of uncertainty/concern about the coronavirus pandemic
Interestingly, 76 per cent believe the lockdown has given them more time than ever before to thoroughly research and understand different aspects of electric cars
The primary medium those surveyed have used for researching electric cars over lockdown: online videos (31 per cent), online news/magazine articles (25 per cent), official car brands/models website (19 per cent), blogs (13 per cent), physical newspapers/magazines (10 per cent) and podcasts (2 per cent)
Despite the coronavirus crisis causing widespread chaos across several sectors, only 22 per cent believe the disease will cause significant long-term damage to the electric car market.
The accompanying infographic shows the complete online search. data for 30 different electric vehicles.