Sustainable rubber procurement: Yokohama Rubber signs MoU in Thailand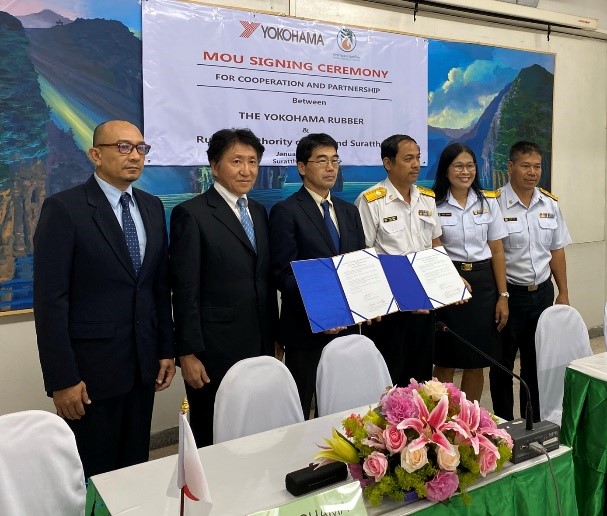 Yokohama Rubber has signed a Memorandum of Understanding (MoU) with the Rubber Authority of Thailand (RAOT). The aim of this cooperative partnership with the state enterprise is to provide economic support for Thai natural rubber farmers and to improve traceability, with the aim of ensuring transparency and soundness within the supply chain.
This agreement with RAOT is the latest concrete action based on Yokohama Rubber's 'Procurement Policy for Sustainable Natural Rubber'. It follows a survey of Thai natural rubber plantations in Surat Thani that the company's local natural rubber processing subsidiary, Y.T. Rubber Co., Ltd. (YTRC), commenced in June 2019.
YTRC has interviewed about 70 natural rubber farmers so far and intends to survey 500 farmers by the end of 2021. Yokohama Rubber plans to use the survey results to analyse the issues facing natural rubber plantations to better enable the company to efforts by natural rubber farmers to work sustainably, and also to improve traceability.
Demand for tyres and consequently natural rubber has expanded steadily in recent years. This rise in demand has led to growing concerns about a host of problems in regions where natural rubber is produced, including unlawful deforestation, land exploitation, human rights violations, and adverse effects on biodiversity. To help resolve these issues, Yokohama Rubber is participating in the Sustainable Natural Rubber Initiative (SNR-i) advocated by the International Rubber Study Group. The company also is active as a founding member of the Global Platform for Sustainable Natural Rubber (GPSNR), which was launched in October 2018.
The Yokohama Rubber Group has already undertaken various initiatives of its own to secure natural rubber sustainability. It has been conducting joint research on natural rubber with universities in Thailand since 2013 and has also promoted the widespread use of 'agroforestry', which contributes to more stable income for the country's rubber farmers. It also engages in regular exchanges with natural rubber suppliers via suppliers' day meetings. Furthermore, YTRC has introduced a purification system that recycles water used at its plant as part of its effort to protect the natural environment and maintain good relations with local residents.