Cambrian Tyres issues 2020 Kenda catalogue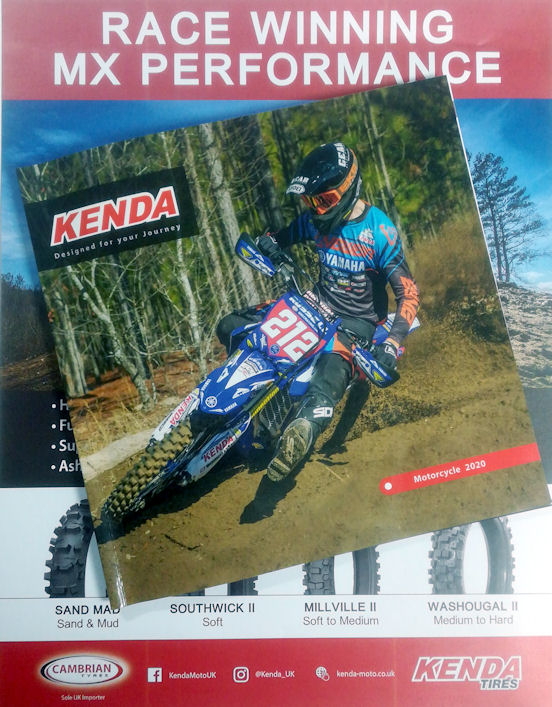 Following the successful introduction of the Kenda motorcycle range to its portfolio of exclusive brands late last year, Cambrian Tyres has released the first dedicated Kenda catalogue for the UK two-wheel market.
The range of Kenda two-wheel products on offer has already doubled in size since the first tyres arrived in the UK and now includes a wide variety of fitments for scooters, 125cc machines, classics, cruisers and trail bikes. Cambrian Tyres comments that all products are "keenly priced to offer great margin opportunities to retailers." Some of the most popular options to date include the Kenda Big Block adventure tyre, along with the dual-compound Cataclysm which comes in a wide range of sizes for big V-Twin machines, and the sporty K711 for small capacity naked and supersport bikes.
Kenda's Weston Beach Race winning motocross tyres have also proved to be hugely popular following the brand's re-introduction to the UK market. A wider range of junior sizes are now available in 2020 along with the road-legal Trakmaster practice tyre which is also a great value tyre for trail riders.
Meanwhile, the introduction of the Gauntlet, Knarly and Ibex to the brand's portfolio of enduro and extreme enduro tyres makes it one of the most comprehensive on the market right now.
The Kenda range is exclusively distributed in the UK by Cambrian Tyres. Dealers can request a new catalogue by e-mailing rich@cambriantyres.co.uk or by calling the Cambrian sales team on 01970 624004. New catalogues for Anlas, Bridgestone and Continental are also available, while the annual Cambrian Tyres edition featuring all brands is expected to be out next month.