Limited spaces available for first Repxpert Academy LIVE event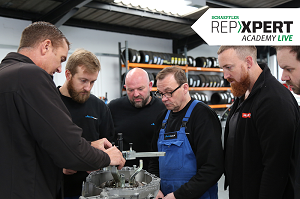 Schaeffler states that there has been a surge in sign-ups for the inaugural Repxpert Academy LIVE training day. The new 'roadshow' training concept, which is a joint venture with the IMI, will be held at approved college venues across the UK, with the first event taking place at Lincoln College on Saturday 16 November.
Repxpert Academy LIVE has been created with the sole purpose of helping professional technicians and workshop owners improve and futureproof their technical and business skills. Throughout the day, Schaeffler's Repxpert team will share its knowledge of the latest products, tools, hints and tips from the original equipment manufacturer and supplier, including LuK for transmission systems, INA for engine and FAG for chassis. There will also be a focus on new technologies, such as Schaeffler hybridisation, electrification and thermal management systems.
Additionally, specially-selected guest speakers, including Repxpert Brand Ambassador, Andy Savva, will be appearing. Popular industry speaker, Andy, also known as The Garage Inspector, will be offering business advice in one of four different classroom sessions. Other special guests of interest to workshops will also attend at future venues, including Laser Tools and garage management system specialist, Techman, adding even more value to the already free event.
As well as the presentations and seminars, visitors will be able to test their skills in the INA Torque Challenge, an educational training game, which highlights the importance of using the correct tools and torque values while replacing belt system components.
Schaeffler managing director, Nigel Morgan, said: "We have been delighted with the initial feedback from workshops in the East Midlands and beyond. We thought this event would be a 'hit' with technicians, many of whom not only fit our products but also register their points on our Repxpert website, which contains an abundance of installation guides, diagnosis tools and product information.
"To bring Repxpert and all of its technical information to life is a fantastic moment for Schaeffler, and we know visitors will not be disappointed – we urge technicians to sign-up now to avoid missing out."