New Holland approves Trelleborg PneuTrac for T4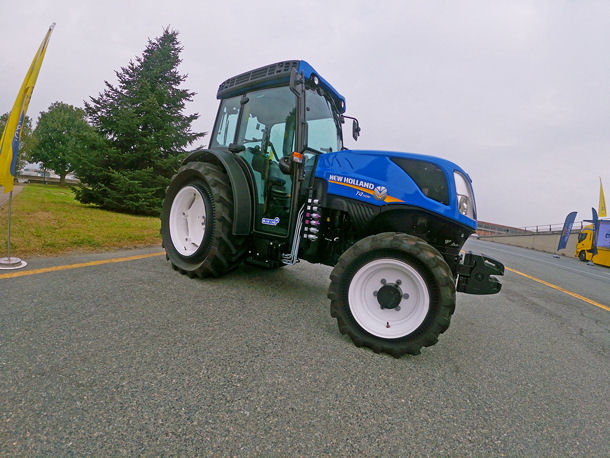 New Holland Agriculture has selected the PneuTrac from Trelleborg Wheel Systems as a fitment for its new T4 tractor range. The tyres can be specified for New Holland T4 N/F/LP models in sizes VF480/65R28 and VF280/70R18.
"We are extremely proud that New Holland Agriculture selected Trelleborg's PneuTrac for the new T4 Specialty range of tractors for demanding specialty applications. We are confident that our PneuTrac solution will be a powerful differentiator for the new T4 Specialty within vineyards and orchards," comments Lorenzo Ciferri, vice president of marketing and communications at Trelleborg Wheel Systems.
PneuTrac is a hybrid solution that combines the efficiency, comfort and handling of a radial agricultural tyre with the wide footprint and traction benefits of a track. Trelleborg Wheels Systems says it "delivers unbeatable performance on both steep slopes and muddy terrain, reducing the stress on roots while ensuring healthy crops and better yields."
Trelleborg explains that PneuTrac contains the best-in-class features of its agricultural tyres along with a sidewall adopting the CupWheel Technology by Galileo Wheel Ltd. The innovative 'Omega' design of the sidewall helps the casing to sustain load, simultaneously providing flexibility and an extra-wide footprint, resulting in very low soil compaction.
The Progressive Traction technology on the tread itself enhances traction while the inter-lug terraces improve the tyre's self-cleaning capability. For example, the roots in vineyards are very susceptible to damage. Machine slippage could be disastrous for both the soil and roots.
"When designing the PneuTrac we focused on the specialist requirements of leading brands of vine producers. Two years of intense field testing was conducted with leading Italian and French producers including Frescobaldi, Ferry Lacombe, Mazzei, Banfi, Marramiero and Pellicani," shares Ciferri. "In addition, PneuTrac was selected by a number of independent institutes, universities and specialised editors to participate in test and research initiatives. The feedback from users along with the studies and research results exceeded any initial expectations and accelerated the product introduction to market.
"We firmly believe that PneuTrac is a game changing innovation and that it demonstrates our commitment to sustainable farming, helping to protect some of our most valuable agricultural assets," Ciferri states.
Trelleborg Wheel Systems says it is working closely with New Holland Agriculture on several joint development initiatives to extend the offering of PneuTrac to additional sizes and tractor ranges.
The PneuTrac solution was originally developed by Mitas and became a Trelleborg product following the latter's acquisition of Mitas parent company CGS Holding in 2016.