Cambrian: Perfect beach race debut for Kenda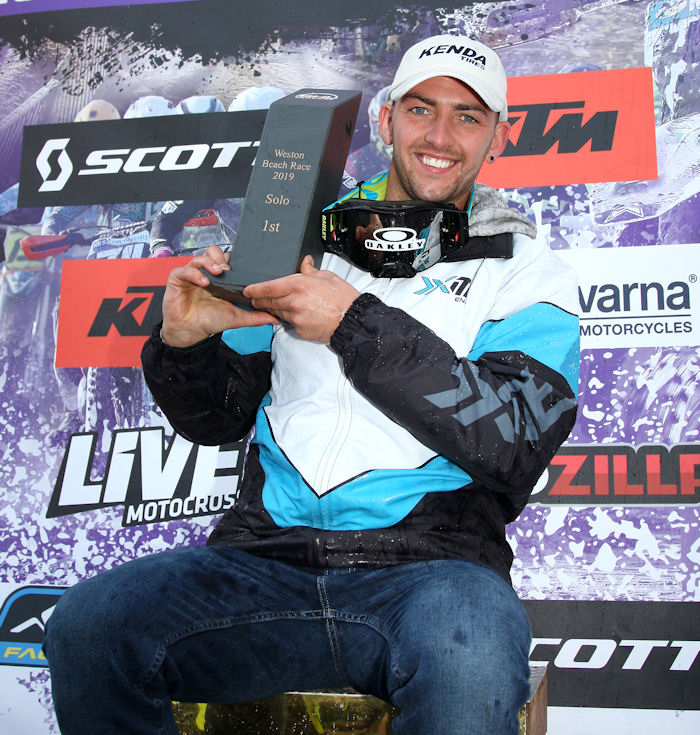 For many, the annual Weston Beach Race is the ultimate test of man and machine. More than 900 riders battle it out on the sands of the Victorian seaside resort, with the goal of claiming one of the most coveted prizes in motocross after a gruelling three-hour race.
For official importer Cambrian Tyres, this was also the first opportunity to show off its latest tyre brand – Kenda – in public, with the stand in the trade marquee attracting plenty of visitors over the course of the event.
Following on from the recent announcement with the Lings race team, Kenda and Cambrian also teamed up with regular beach race front runner Ashley Greedy from South Wales after a successful test of their Sand Mad rear tyre, and Southwick II soft-terrain front.
Riding in his tenth Weston Beach Race, an excellent start from Greedy saw him get clear of the traffic to finish the opening lap in third, and at the halfway point he sat in second place behind Mel Pocock.
A smooth pitstop at the end of the second hour put Ashley into the lead, and from that point onwards as his lead increased, he looked unstoppable.
Greedy crossed the line 1m 55.67s ahead of Pocock to take his first-ever win at the event, and provide Kenda with victory on their first-ever beach race appearance, much to the elation of brand manager Graham Matcham who was on hand to congratulate him at the podium presentation.
Clearly charged with emotion after his stunning victory, Greedy said: "Every time I've come here, well it's such a big event, I've always wanted to win it and I was a bit emotional – I was coming to the end thinking 'I've got this, I've got this, I've got this' then I crashed two laps from the end and was in all of the water. I got up absolutely soaking wet and thought I might have just thrown it away, but I carried on and we got it done. I'm ecstatic."
"We just want to congratulate Ashley and the whole team on a stunning result," commented Matcham. "The reaction we've had from the public this weekend has been absolutely fantastic, and we've certainly generated a lot of interest, but this result has really helped to put Kenda on the map in the UK."
After just a few months in the UK, Cambrian Tyres has already expanded its Kenda range, doubling the number of available product lines covering motocross, enduro, cruiser, lightweight motorcycle and scooter.