Pirelli introduces new Diablo track compound tyres for 2019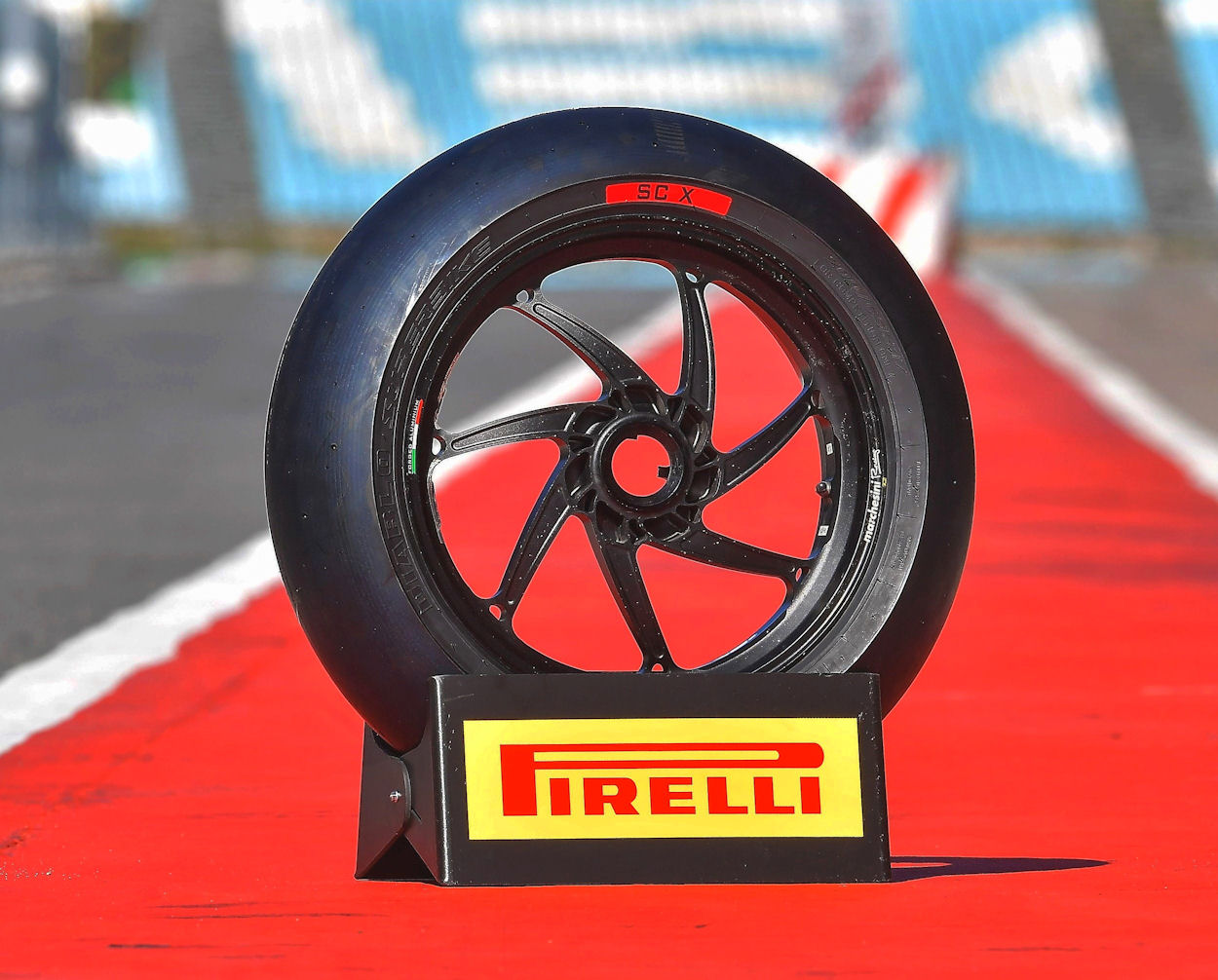 This year a new range of Pirelli Diablo tyres geared towards track use will be brought to market. The additions for 2019 include: New compounds for the Diablo Superbike slick in the standard 200/60 ZR 17 rear and 120/70 ZR 17 front sizes; a new SCX solution (ExtraSoft) for the Diablo Superbike slick in size 200/65; larger Diablo Superbike Slicks in 200/65 ZR17 rear (SC0 compound) and 125/70 ZR17 front (SC1 compound); a new Diablo Rain rear tyre in size 200/60 ZR 17, available in two different compounds; and a new Diablo Supercorsa SC, the third generation of this range to be introduced.
Diablo Superbike
Pirelli calls the Diablo Superbike the "pinnacle of the Diablo range." These NHS (Not for Highway Service) slick tyres are aimed at professional and amateur riders, as well as track day riders seeking to get the most from their circuit riding.
The new SC1 soft compound for the front tyre is the V0952 spec, which has been the 'go-to' option for the last two years in the World Superbike Championship and also saw use last year in several prominent national championships such as British Superbike, CIV, CEV and Alpe Adria. The compound was developed to provide better performance and riding precision, as well as more versatile use.
Pirelli says the new SC2 medium compound is sturdier and quicker in direction changes, guaranteeing more support, better grip, maximum lean angle and better absorption of the bumps on the track.
The new SC3 hard compound provides better precision and quickness in direction changes and more support than the previous standard compound. Generally, the SC3 has the same or more grip than the SC2, but a higher capacity to resist wear than the other solutions.
A new rear slick compound is also available. This is the SCX (ExtraSoft) in 200/65. This completely new product for FIM World Superbike Championship (WSBK) riders uses an extremely soft compound and was designed to fall between the performance of a qualifying compound and that of a soft racing tyre.
Diablo Superbike – larger size
As in 2013 with the historic switch from 16.5-inch tyres to 17-inch tyres, Pirelli intends to continue being a pioneer in development. For this reason, throughout 2018 it developed larger 200/65 rear and 125/70 front solutions and made these available to WSBK riders. Compared with the standard sizes, these were shown to offer greater stability and more grip thanks to their wider contact surface, and higher consistency in terms of performance, trajectory precision and support.
After a year of development, Pirelli has now decided to add to the range. It is offering the larger sizes in SC0 rear and SC1 front compound with the goal of completing the compound range during the WSBK and FIM Endurance World Championships in order to then make them available on the market in 2020.
Diablo Rain
Pirelli has worked to improve performance of the rear tyre in the 200/60 ZR 17 size and in two different compounds. The Diablo Rain has a new design with different groove angles in the grip area which allow more even wear and greater tread stability, as well as on the shoulder grooves which improve water dispersion and consequently improve grip when leaning and traction coming out of turns. Two compounds, SCR1 and SCR2, are available.
Diablo Supercorsa SC
First launched in 2007, the Diablo Supercorsa SC is now in its third generation. Structure, profiles, tread pattern and compounds have been completely redesigned to provide a more consistent performance. The grooved new generation tyre is intended for track use and dedicated to professional and amateur riders, as well as sport users seeking top spec performance on the track.
These tyres are also available in various compounds in order to take on the different types of asphalt and weather conditions that can be found on circuits all over the world but, unlike the Diablo Superbike tyres, no SCX or SC3 compound is available.