Global motorsport participation 'crucial' part of Yokohama technology strategy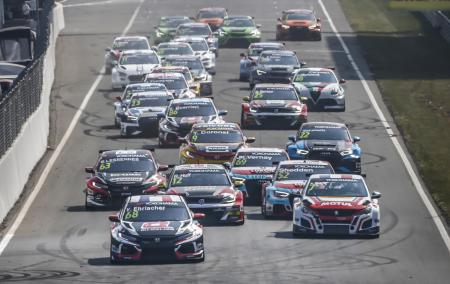 Yokohama's broad support for global motorsport series and events in 2019 are "crucial" to its positioning in the vanguard of new tyre technology development, the tyre manufacturer states. The importance of motorsport was outlined in the company's three-year management plan implemented in 2018, the "Grand Design 2020" (GD2020) technology strategy. Yokohama HPT, the company's UK division outlined its support for events at all levels at Autosport International in January – a strategy that reflects the presence of the brand in its domestic Japanese and global markets too. Its headline series in Japan include the Super Formula Championship, Formula 3, TCR touring cars events, and national rallying and karting championships, while GT racing will play a significant role globally for the company.
Formula racing
Yokohama tyres have been fitted as control tyres for the Japanese Super Formula Championship since 2016. The 2019 races will feature a new machine design, the Dallara SF19, with the company's Advan racing tyres again selected. Like 2018, Yokohama will supply two specifications; a medium-compound and a soft-compound tyre. The Advan A005 will be used in races run on dry tracks and the Advan A006 will be used on wet tracks. This year's sizes will be 270/620R13 (front) and 360/620R13 (rear). Yokohama will also continue a relationship begun in 2011, supply the Advan A005 and A006 in sizes 200/50VR13 (front) and 240/45VR13 (rear) to the Japanese Formula 3 Championship, the country's longest continuously running motor racing series.
This year marks the tenth straight year since 2010 that Yokohama will supply Advan racing tyres to Japan's Super-FJ Formula racing series; a domestic regional championship established by the Japan Automobile Federation (JAF). It includes several competitive multi-race regional series held at the seven major circuits in Japan, from Tohoku in the north to Kyushu in the south.
GT tyre supply
Yokohama will supply 250/660R18 size Advan A005 and A006 tyres for the 10 races of the FIA World Touring Car Cup (WTCR). The WTCR has run under TCR technical regulations since 2018, and Yokohama Rubber was named its official tyre supplier for 2018–19 in recognition of its support for the series predecessor, the FIA World Touring Car Championship (WTCC). Yokohama supplied Advans to the series for 12 consecutive years from 2006.
The same Yokohama tyres are the control specification for the TCR Japan Series, which joins other regional and national TCR series running on Advans. These include TCR Europe, TCR UK, TCR Iberico, and TCR Benelux, all of which ran on Yokohama in 2018. In 2019 Yokohama has added tyre supply deals for the TCR Germany and TCR Scandinavia series.
Super GT races are contested in two classes, GT500 and GT300. GT500 is dominated by works teams from major automakers while GT300 teams tend to be more varied and individualistic. GT500 machine specifications are being brought in line with the regulations of the Deutsche Tourenwagen Masters (DTM, German Touring Car Masters) series, and since 2017 all racing teams enter machines that meet the new regulations, including reduced downforce. GT300 races feature competition by a variety of cars made in Japan and overseas. The machines can broadly be divided into three types: automakers' production cars that meet the international FIA GT3 specifications; unique JAF-GT machines; and the so-called "Mother Chassis" group of machines.
In the GT500 races, Yokohama Rubber will be supporting the same three teams we sponsored in 2018: Kondo Racing's Realize Corporation Advan GT-R, Lexus Team WedsSport Bandoh's WedsSport Advan LC500, and Team Mugen's Motul Mugen NSX-GT. Yokohama will also support teams in the GT300 races. The Super GT series will again consist of eight races, including one in Thailand.
Nürburgring 24-Hour and VLN endurance
This year Yokohama Rubber will supply teams competing in Nürburgring 24-Hour Endurance Race and VLN Endurance Championship at the Nürburgring Nordschleife. Yokohama will support a number of teams, including Kondo Racing, a Super GT partner, as well as the Walkenhorst team racing in BMW machines. Supplying the Advan A005 and A006, Yokohama adds that it will work closely with all supported teams as they seek to raise the championship trophy. Advan racing tyres will also be available to participants in a number of GT races around the world, notably the Porsche GT3 Cup Challenge USA, the Porsche GT3 Cup Challenge Canada, and the Inter Proto Series in Japan.
Rallying
The Japanese Rally Championship will be contested over 10 races again in 2019, with Yokohama supplying teams with a range of tyres appropriate to the course conditions of each race, centring on the Advan A052 and Advan A08B for races run on tarmac-paved roads and Advan A053 for gravel. In 2018, the team of Toshihiro Arai and Naoya Tanaka captured the JN-6 class series championship on Yokohama, while Fumio Nutahara and Tadayoshi Sato finished third. Yokohama-supported teams in other classes also achieved strong results, capturing second place in the JN-5, JN-4, and JN-1 classes and third place in the JN-2 class. In 2019, we look forward to again supporting teams vying for the championship in many classes. The Fumio Nutahara/Tadayoshi Sato team will compete again this year in a machine displaying the Advan colours.
Yokohama will also supply its Geolandar tyres for SUVs and pickup trucks to teams participating in off-road races around the world, including the desert races in North America and the Asia Cross Country Rally in Southeast Asia.
Karting
Yokohama will support teams competing in the top-level OK class of the All Japan Karting Championship, the country's premier kart racing series. The 2018 series resulted in the first series championship for a kart running on Yokohama; this year, four teams will use the company's rubber. Additionally Yokohama will support the FP-Junior Cadets class of the Japanese Junior Karting Championship by providing the control tyres. The Advan SLJ, which we began marketing in January 2018 specifically as a dry-surface tyre for Cadets class karts, will again be supplied as the control tyre. Overseas, Yokohama will supply the control tyre for the Asian Karting Open Championship as well as tyres for circuit races in the Philippines and other countries.