Automechanika Birmingham appoints Jack Halliday as new event director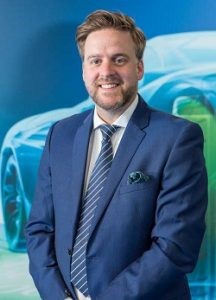 Automechanika Birmingham has promoted Jack Halliday to event director, just under a year ago he joined the Messe Frankfurt UK subsidiary as head of sales.
As the event prepares to return to the NEC for the fourth time next year and with many major industry players signed up to exhibit, Halliday will oversee all event management at the UK's leading exhibition for the automotive industry.
He said: "I am delighted to be have become event director for Automechanika Birmingham. With the help and support of our award-winning team, we are excited at what the event can deliver for both exhibitors and visitors in 2019. With it being the last chance to see the UK market before the event goes biennial, returning in 2021, the 2019 event is expected to be a great success".
Halliday has worked within B2B exhibitions for over 15 years, successfully managing teams, events launches and large-scale events like Automechanika Birmingham. He has also worked within the automotive industry for BP Mobil and for Castrol as regional development manager.
Simon Albert, Messe Frankfurt UK managing director, said: "Jack is an industry specialist and we're delighted to further harness his breadth of experience. He has hit the ground running since joining the team only ten months ago, fully immersing himself in the automotive industry and making a significant contribution to Automechanika Birmingham 2018's success."
The automotive exhibition will run from 4 to 6 June 2019 and expects to host more than 600 exhibitors and 12,000-plus visitors.  Visitors will be welcomed with a new layout, as well be reacquainted with 2018's hugely successful Garage Quarter, alongside a facilitated meetings programme and additional networking opportunities.