Michelin at Goodwood: Kudos for Apollo IE hypercar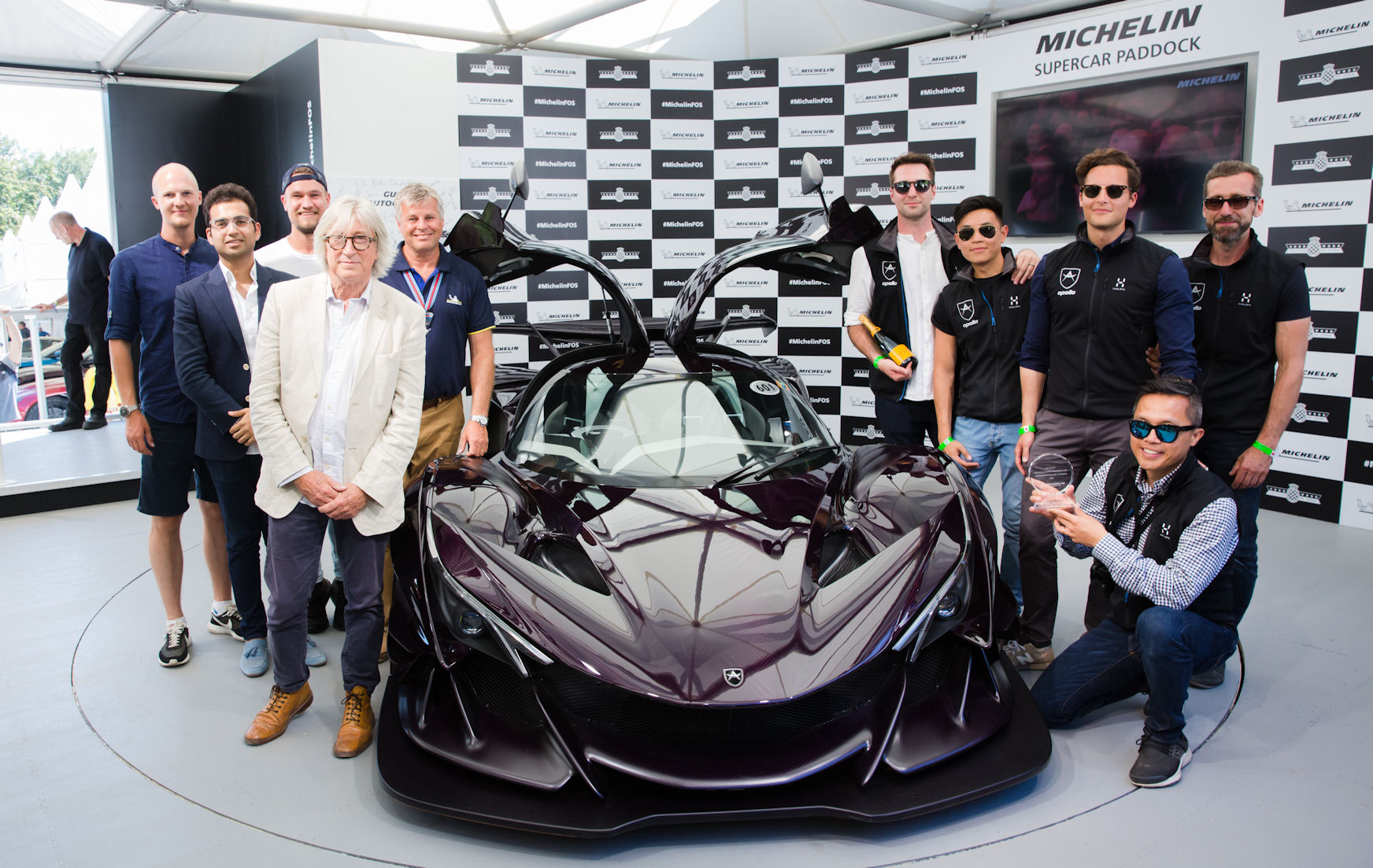 The Michelin Supercar Paddock concludes its seventh year at the Goodwood Festival of Speed with the flagship Apollo IE hypercar from Apollo Automobil taking the crown of Michelin Supercar Paddock Showstopper 2018.
A shortlist of four supercars was compiled through a Michelin UK Facebook poll, with the cars voted 'showstopper' from each day of the Festival going into the final on Sunday.
A panel of expert judges took to the Michelin Supercar Paddock Live Stage on Sunday afternoon to weigh up the shortlisted cars and agree on one overall 'Showstopper of the Festival' winner. Michelin Supercar Paddock presenter and former BTCC Champion Tim Harvey led the panel, which included vloggers Sam from Seen Through Glass and Paul Wallace from Supercars of London, designer Peter Boutwood from Noble Cars and designer from Vazirani Automotive, Chunky Vazirani.
Receiving the accolade at the Goodwood Festival of Speed, Apollo Automobil general manager Ryan Berris said: "The Apollo IE marks the return of the truest, most organic form of the hyper-car – our flagship that represents the ethos of the brand. Created from a blank sheet of paper, the IE is the beginning of the next chapter for Apollo. We are so delighted with this award and the reception the IE has received here at the Festival of Speed, demonstrating the appreciation across all generations for a true, pure hyper-car. The high revving naturally-aspirated V12 combined with a design that blends lightweight, aerodynamic efficiency with intense emotion and soul. It has really struck a chord with fans and aficionados of all ages and tastes here at Goodwood, and we are extremely proud of that."
Chief Judge, Tim Harvey, added: "It is not often that we are presented with a supercar as true and pure as the Apollo IE, designed, engineered and built without any cost constraints whatsoever. This isn't a commercial enterprise, it is a labour of love and passion and that is a truly rare thing in the modern automotive world. A 6300cc V12 delivering 335kph and 0-60 in 2.7 seconds, bolted to the road surface by super high-performance Michelin Sport Cup 2 tyres. What's not to like?! It was a pretty much unanimous decision by us judges and a well-deserved one too."
Michelin also played host to a number of product debuts on both its main commercial stand and in the Michelin Supercar Paddock, from Apollo (IE), Aston Martin (V12 Vantage V600 and Cygnet V8), Brabham (BT62), Lotus (Exige GT430), Noble (M500), Singer (DLS), Toyota (Supra A90 Concept), Vazirani (Shul Inspire Granturismo), W Motors (Fenyr Supersport), and many more across the Goodwood Festival of Speed weekend.
The Michelin Supercar Paddock played host to a number of special guest appearances from stars of the race circuit, television and film, YouTube and the global auto industry. Guests included Emerson Fittipaldi, Mark Webber, Andy Priaulx, David Brabham, Harry Tincknell, Oli Webb, Mr. JWW, Chris Harris, Marino Franchitti, Urban Outlaw Magnus Walker, Darren Turner, Andreas Preuninger, Marek Reichman, Vicki Butler-Henderson, Paul Wallace from Supercars of London, Martin Donnelly, Louise Goodman, Supercar Blondie, Sam from Seen Through Glass and many more across the Goodwood Festival of Speed Weekend.