Kama launches Pro NU 404 with central inflation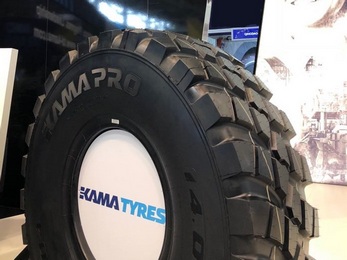 With the launch of the Kama Pro NU 404, Kama Tyres has become Russia's first tyre brand to offer products featuring a central tyre inflation system. The new range is available in two sizes, 14.00R20 and 16.00R20, as well as in tubed and tubeless versions. The Kama Pro NU 404 is intended for use on four-wheel drive trucks, mainly in off-road conditions and on soft soils, at an ambient temperature range of -45°C to +55°C.
Kama Tyres says the NU 404 contains "new design solutions" that will be used in all future Kama Pro tyres. The first Kama Pro tyres for regional transportation will come to market early next year.