A Michelin engineer by your side – market launch for connected tyre solution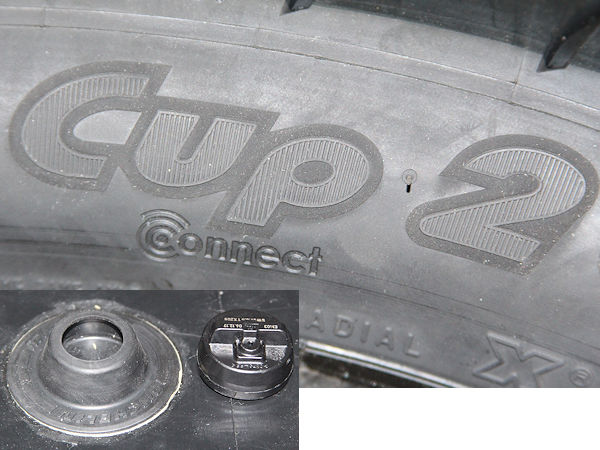 When it brings a new, special version of its Pilot Sport Cup 2 to market this month, Michelin will become the first manufacturer to sell a connected tyre solution for private cars. The Pilot Sport Cup 2 Connect is a tyre aimed at amateur drivers who take part in track days and other circuit events. When paired with the newly-launched Michelin Track Connect solution, it can provide a wealth of real time tyre information.
The Connect version of the Michelin tyre comes equipped with a container mounted on the inner liner; this is specifically tailored to house a sensor manufactured by TPMS specialist the Huf Group. Information on pressure and temperature is sent from the sensor to a central receiver mounted within the car's passenger compartment, and this is then sent to the driver's smartphone.
Track Connect, says Michelin, was "co-developed with genuine driving enthusiasts during an 18-month lab workshop." The tyre maker shares that it all began with a meeting in June 2016 at which many track day and circuit event attendees rued possessing neither reliable tyre pressure and temperature measuring instruments nor expertise on how to best optimise their vehicles for circuit driving. Members of sports car clubs and others with a passion for driving were drawn in and interviewed over a nine-month period to help Michelin better understand what improvements in vehicle behaviour they'd most like to see.
During the nine months following the interview phase, Michelin relied upon the expertise and competence of two start-ups, Openium for software development and Exotic Systems for hardware. Both worked with Michelin's Ladoux Technology Center/Connected Platform to design and develop content for an offer that could provide support to enthusiasts during their circuit runs. Michelin first tried out the solution on its own proving ground and testing equipment before moving to trials on the Nürburgring Nordschleife.
Once the offer's concept and technical feasibility was validated, Michelin needed to ensure these would meet the expectations of hardcore amateur drivers. This is why Michelin contacted France's second-largest Porsche Club, Club Porsche Auvergne, and equipped about 50 of its members' cars for track days between March and October 2017. Michelin spoke with drivers during the six circuit events that its technicians attended, collecting over one hundred comments, and also held two focus groups to further understand and integrate customer expectations into the offer. As a result, the application has been updated no less than 27 times in the past nine months.
Thanks to the latest adjustments made during the winter, Michelin says it is in a position to launch the first connected coaching offer for driving enthusiasts as the 2018 season kicks off. "Every pilot has always dreamt to have a Michelin engineer by his side," writes Michelin, introducing the new solution. "Michelin Track Connect can actually make this dream come true by helping the pilot with customised, informed advice about adjusting his tyre pressure to boost his performance and his driving fun."
Michelin Track Connect can assist a driver before, during and after circuit runs. Prior to heading out, the application recommends the most suitable tyre pressure for the driving conditions. Pressure, along with tyre temperature, is then given in real time while the car is out on the track. The driver can also check whether the tyres are operating within optimal, predetermined limits and can monitor vehicle behaviour such as oversteer and understeer based on relative changes in the balance between front and rear tyre pressures. Once off the circuit, Michelin Track Connect will indicate what adjustments need to be made before the next run and can also provide information for a more detailed analysis.
Sales of Michelin Track Connect begin in France, Germany and Switzerland, where it will retail for 399 euros. The Michelin pilot Sport Cup 2 Connect is available in 11 sizes for 18- to 21-inch rim diameters.