Michelin extends Track Connect to amateur racers with Leisure mode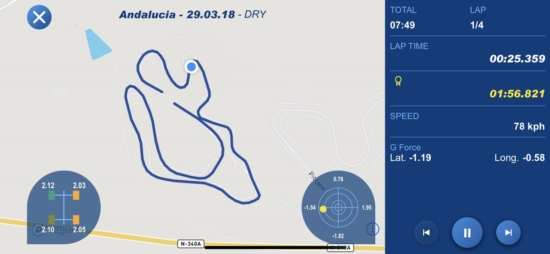 Michelin has developed its Michelin Track Connect motorsport monitoring system with a new Leisure mode. The new mode is the third available in the tyre monitoring system, and the first designed to extend its accessibility to all users, regardless of the type of tyre fitted. The new mode joins Expert mode for track day participants looking for to improve their performance, and Motorsport mode for rally drivers – and soon track competitors too. Both of these modes require the Michelin Track Connect Kit – comprising sensors and a Bluetooth receiver as well as the smartphone app – and connected Michelin tyres, unlike the Leisure mode. The system has recently become original equipment on the new Renault Clio Rally.
Michelin says the system is the latest step for a pioneer of connected tyres, launched in March 2018. Michelin Track Connect constantly analyses the evolution of tyre pressure and provides the driver with advice and recommendations for their management. The latest Michelin Pilot Sport Cup 2 comes with an integrated container for a Track Connect enabled sensor, a solution that also received its first OE deal on the BMW M2 CS recently.
Michelin Track Connect modes
The Leisure mode is completely free to use, and available for everyone to use regardless of the type of tyre. The mode allows users to record the lap times and speeds, as well as the evolution of the pressures between the start and the end, measuring them manually; analyse sessions in detail thanks to the "Replay" mode; share results on social media; compare performance with other drivers; and invite others to participate in new challenges.
In Expert mode, users can additionally check the evolution of tyre pressures and temperatures in real time and benefit from advice to improve lap times, based on vehicle, circuit and weather conditions. Michelin says this mode can help users to optimise car setup in order to improve both lap times and enjoyment. Tyre wear and constant performance on the circuit can also be improved – a recent Michelin test showed an improvement of 7.40 seconds after a series of 15 consecutive laps was achievable simply by using the app's recommendations.
Motorsport mode allows users to optimise race performance, preparing tyres with the correct pressure before the start –personalised advice based on the car model, use, type of tyres fitted and driving conditions. It also displayes continuous information on tyre pressure on the smartphone screen.
Michelin launched its first connected competition tyre equipped with integrated sensors, the Michelin Pilot Sport with Michelin Track Connect. in November 2019 in the FIA ​​Formula E Championship. Now amateur and professional rally drivers have access to the connected tyre solution.