Midwest raises further funds for Bilston Town FC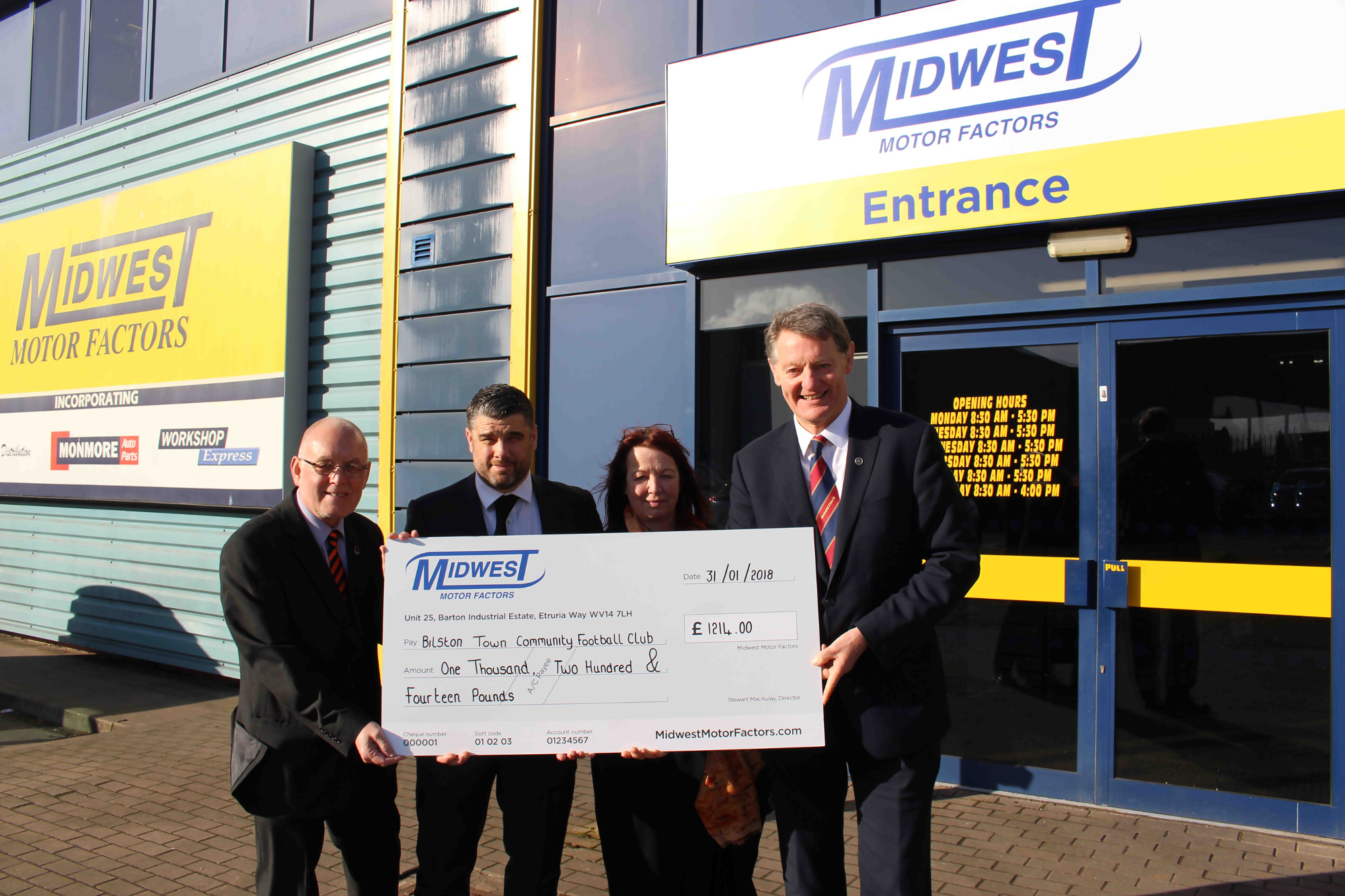 West Midlands-based automotive parts distributor, Midwest Motor Factors, has raised £1,214 for Bilston Town Football Club, as part of its ongoing commitment to proactively support the local community. The cheque was presented to the club by Arnold Clark aftersales director Stewart MacAulay, on behalf of Midwest, owned by Arnold Clark. The money will cover the cost of the installation of new showers for the players.
Midwest Motor Factors is a long-term supporter of Bilston Town FC, nicknamed 'Steel Men', which for the second year in a row is sponsor for the local club in the 2017/18 West Midlands (Regional) League Premier Division.
The team itself is on the rise after a significant sum was recently invested into a complete renovation for the ground, improving seating conditions for fans and the barriers surrounding the pitch. The training facility and apprentice programme has also been enhanced to ensure youngsters within the community have access to secure, certified qualifications within the sport.
With the ground within 200 yards of its Bilston branch, Midwest is proud to encourage community spirit. Besides its support and sponsorship of Bilston Town F.C, the parts distributor also sponsors Wolverhampton speedway team and makes regular donations to local schools and the West Midlands Air Ambulance.
Stewart MacAulay, Group Autoparts director, said: "We're delighted to continue providing our support to Bilston F.C and it's a fantastic way to keep the late, great Graham Hodson's memory alive. We share the same values as the club and the donation highlights our dedication to developing Bilston even further."
Denise Frankham of Bilston Town FC, said: "Local automotive business Midwest Motor Factors has played an important role in helping to build a future for our club and we can't thank them enough. The company's generous donation ensures we can continue going from strength to strength, not only as a team but also through the improvement of the club's facilities."
Midwest Motor Factors started in 1980 in Willenhall, West Midlands. Today, the company employs 80 staff and has more than 40 vans operating out of five branches across the West Midlands including the award winning Monmore Auto Parts branch, which is based in Wolverhampton.