Pirelli publishes 2017 results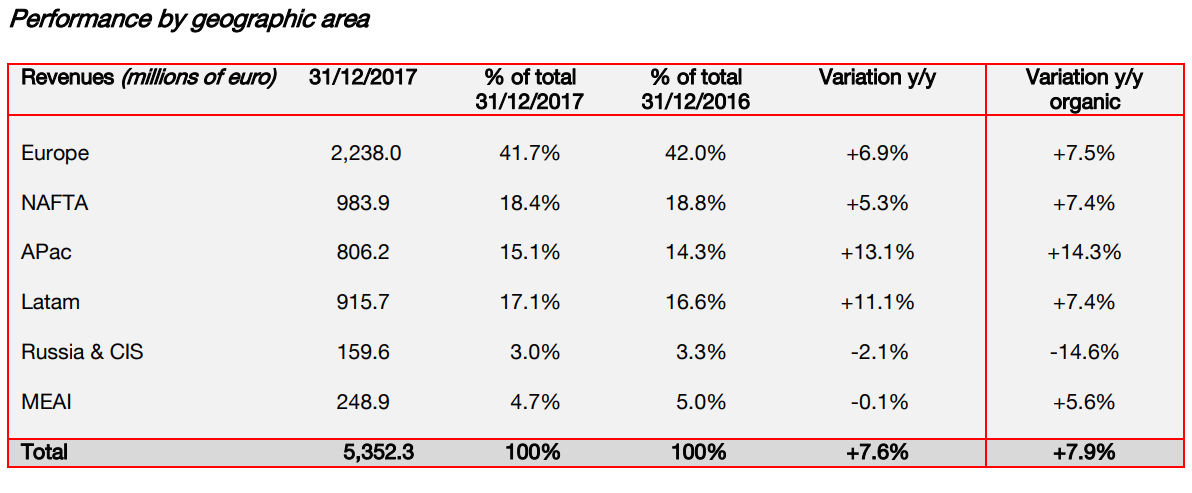 Pirelli & C. S.p.A. has reported a 7.6 per cent increase in revenues, to 5.35 billion euros, for the 2017 financial year. This figure is below the growth target of approximately nine per cent set for 2017; Pirelli says this lower growth was due to a greater than anticipated forex impact and the acceleration of the reduction of exposure to its 'standard' segment. The aforementioned revenue increase includes growth of 11.8 per cent within what Pirelli refers to as its 'High Value' segment, whose revenues of 3.08 billion euros accounted for 57.5 per cent of sales, up from 55.3 per cent in 2016.
Organic growth amounted to 7.9 per cent and excludes forex impact (-0.7 per cent) and the consolidation of Jiaozou Aeolus Car (+0.4 per cent), whose conversion to the Pirelli brand continues with the aim of accelerating Pirelli's development in China. Price/Mix rose 6.9 per cent year-on-year in 2017.
Volumes in the High Value segment were 12.5 per cent higher year-on-year. In particular, volumes of new premium car tyres for rim diameters above 18 inches grew 15.4 per cent, a growth above the market level of 10.5 per cent. Total volumes grew 1.0 per cent; standard volumes decreased by 5.3 per cent, a reduction occurring as part of Pirelli's strategy to progressively reduce exposure to this less profitable segment, mainly in Russia, Latam, MEAI (Middle East, Africa and India) and Europe.
Europe accounted for 41.7 per cent of Pirelli's global business, and the 2.24 billion euros of revenue earned there in 2017 represent a year-on-year increase of 6.9 per cent. The region registered organic revenue growth of 7.5 per cent (+6.9 per cent including forex effects and variations in perimeter) underpinned by the strengthening of High Value (organic growth +12.8 per cent). Profitability was at the mid-teens level and discounts the impact of start-up costs, but showed marked improvement in the second quarter (high teens) as a consequence of mix improvement and the implementation of price increases.
EBIT & net income
Adjusted EBIT before start-up costs was up 9.7 per cent to 926.6 million euros, with the margin on revenues increasing to 17.3 per cent (17.0 per cent in 2016). Net income for continuing operations jumped 60.5 per cent to 263.3 million euros.
As a consequence of Pirelli & C. S.p.A.'s assignment of shares in TP Industrial Holding to Marco Polo International Italy, the company into which the Industrial assets of Pirelli were conferred, the Industrial business is qualified as a "discontinued operation". The net result of disposed operational activities – the Industrial business – was a loss of 87.6 million euros (-16.4 million euros in 2016), a result particularly reflecting the accounting effect of the differences in exchange rates on the date of assignation (negative for a total 80.2 million euros and mainly attributable to the Egyptian subsidiary).
The net result for the Parent Company was 170.9 million euros, an increase of 149.5 per cent compared with 2016. In line with what is already known to the market, the Pirelli & C. S.p.A. Board of Directors will propose to shareholders that no dividend be distributed and carry forward the year's entire profit.
Results in line with Industrial Plan
Pirelli states that these results for 2017 were in line with the guidelines set out in its Industrial Plan for 2017-2020. In particular, Pirelli has worked to strengthen its High Value segment and progressively reduce exposure to the standard segment; for Pirelli's tyre business, High Value refers to motorsport tyres, car tyres with rim diameters of 18-inches and upwards and radial motorcycle tyres as well as cross-ply custom, touring, off-road and sport touring tyres with H speed ratings and above.
In addition, the company has acted to improve price/mix, to reinforce partnerships with prestige and premium car makers, increase production capacity for High Value products, extend its distribution network coverage in Europe, NAFTA, APAC and LatAm, as well as continue to develop business programmes that intercept the new needs of the end customer (such as Cyber and Velo). These measures are accompanied by plans for the company's digital transformation and the conversion of Aeolus brand production to the Pirelli brand in the Jiaozou Aeolus car tyre plant.
High Value to continue growth in 2018
Pirelli's forecast data for 2018 are in line with the path of growth outlined in the 2017-2020 Industrial Plan, with a strategy centred on the further reinforcing the High Value segment, and confirm the expected operational performances notwithstanding greater forex volatility. The company anticipates year-on-year revenue growth of or higher than six per cent, or growth or around ten per cent when excluding the effect of forex volatility, mainly in the euro-dollar exchange rate. The High Value segment is expected to account for around 60 per cent of total revenues at the end of 2018.
Adjusted EBIT before non-recurring and restructuring charges and before start-up costs is expected to be above one billion euros, compared with 926.6 million euro in 2017, with High Value accounting for 83 per cent of this or more. Pirelli is also aiming for a ratio between net financial position and Adjusted EBITDA before non-recurring and restructuring charges and before start-up costs at about 2.3 times, compared with 2.7 times in 2017, and capital expenditure equalling about eight per cent of revenues, down from 9.1 per cent in 2017.
Further information about Pirelli's 2017 financial results can be read here.