Pirelli's premium focus noticeable in H1 results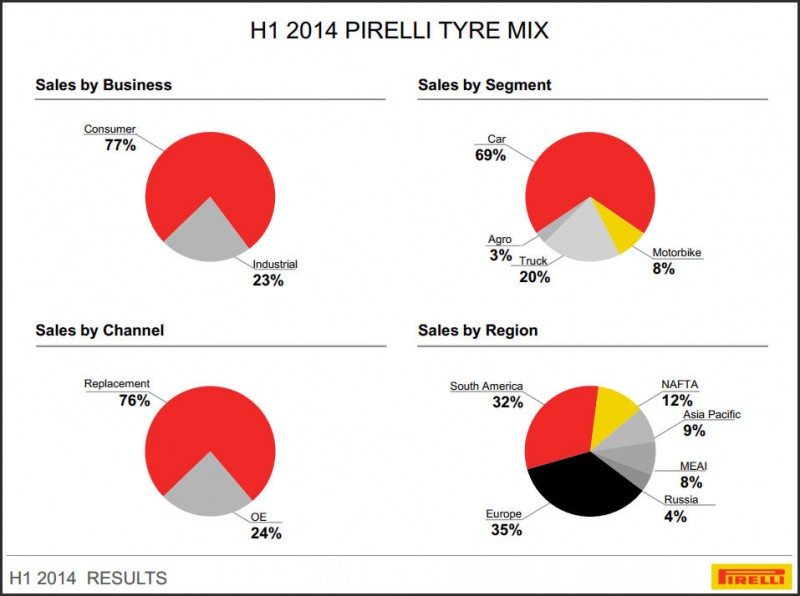 In the first half of the year Pirelli was unable to maintain its year-on-year turnover, however it increased its profitability significantly and profited from the premium segment's growing significance to the Italian tyre maker; the premium segment now accounts for more than 56 per cent of total turnover, as opposed to 50.5 per cent last year. And while total volumes increased by 1.8 per cent in the period between 1 January and 30 June, premium volumes shot up 21.6 per cent.
Pirelli reports a 3.3 per cent decline in turnover to €3.09 billion, and notes that when taking currency effects out of the equation it achieved organic growth of 6.7 per cent. EBIT increased 12.6 per cent to €426 million, with an EBIT margin of 14.3 per cent (12.2 per cent in the first half of 2013). Net income rose 28.5 per cent to €192.1 million. Given the first half results, Pirelli has confirmed its full-year 2014 targets, which include consolidated revenues of approximately €6.2 billion (a growth of almost one per cent) and an EBIT of €850 million after €59 million restructuring costs.
Additional Pirelli financial and company information can be found here.