TerraClean training takes the lead on DPFs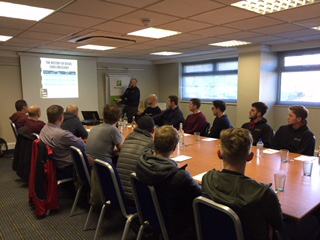 TerraClean, part of Randstad Ltd, has held a series of one-day training courses for more than 100 garages on the growing opportunities of diesel particulate filters (DPFs).
Hosted by TerraClean specialist Gary Wood, the sessions are aimed at supporting independent garages on the effective diagnosis of DPF / EGR related problems and how to solve them using the range of bespoke TerraClean products available.
Training sessions have taken place at six locations including Bristol / Bath, Gatwick, Milton Keynes, Derbyshire, Stirling and North Yorkshire.
The TerraClean network has emerged as a leader in solving DPF related problems for motorists and fellow independent garages and dealerships. Accurate DPF diagnosis and rectification can be a lucrative market for a TerraClean service centre."
Gary Wood said: "DPF diagnosis and fault rectification are huge opportunities for garages to take advantage off. I, like many other garages and technicians, have become the "go-to" experts for DPF related problems.
"The one-day course is designed to help garages understand the fundamental principle and workings of the DPF, while helping them effectively understand, diagnose and rectify faults with DPF systems fitted to modern diesel vehicles. When a DPF blocks, this usually points to an underlying cause; this course will outline the main reasons for this and help troubleshoot the problem."
DPF removal is not considered best practice as it ultimately puts a vehicle on the road that no longer conforms to current MOT requirements. DPF faults are shied away from by a large number of garages due to a lack of understanding, which is proving a major issue throughout the motor trade and increasingly creating headline news.
Phillip Dowd, TerraClean sales director, said: "In the same way Randstad were one of the first to bring decarbonizing to the UK through TerraClean, we have continued to develop the brand and bring DPF cleaning solutions to the UK.  These courses act as a great educational tool on TerraClean equipment, as well as present an ideal opportunity to raise any questions or concerns to the TerraClean experts."