New car registrations down 5.7% in 2017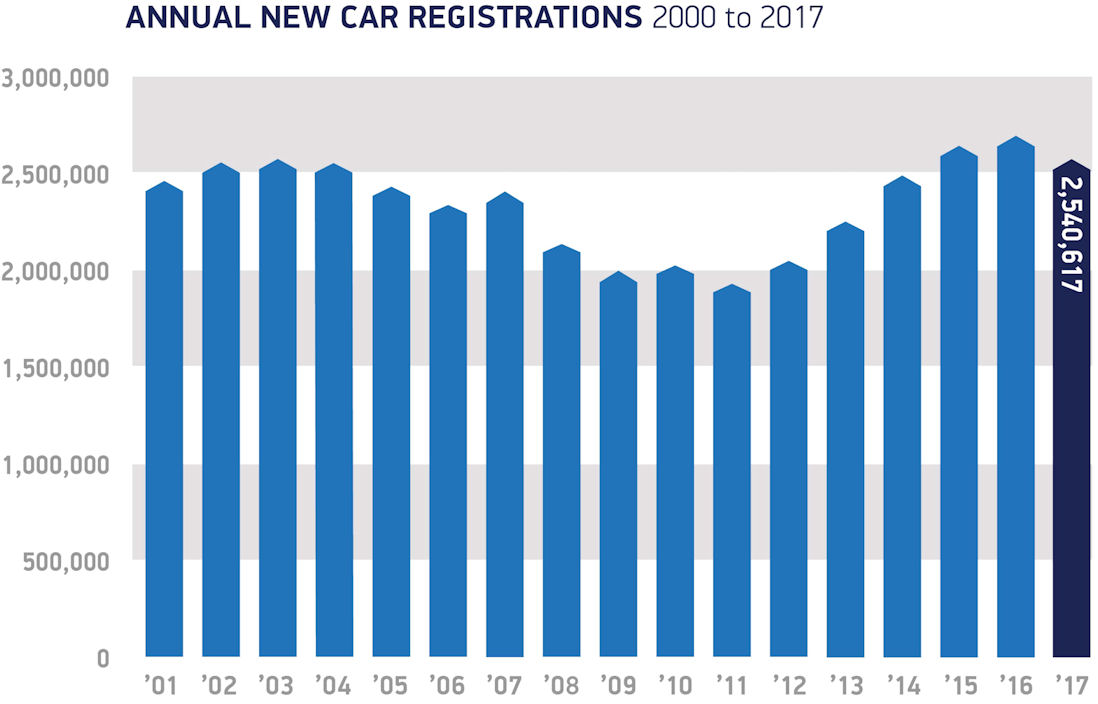 We bought less new cars last year but we're still buying a lot of cars. A total of 2,540,617 new registrations were recorded between 1 January and 31 December 2017, 5.7 per cent less than a year earlier. Presenting its registration figures for 2017, the Society of Motor Manufacturers and Traders (SMMT) notes that while this was the first decrease in six years, in 2017 annual registrations were at the third-highest level within the past decade.
Private, fleet and business registrations were all down year-on-year, with demand from private motorists declining -6.8 per cent and from fleets -4.5 per cent. The biggest percentage loss was seen in business registrations, with the sector ending the year down -7.8 per cent.
The most popular vehicle choices were once again superminis, small family cars and SUVs (dual purpose), with the latter the only segment to grow demand in 2017. In fact, one in every five new cars sold in the UK is now dual purpose, up from one in ten five years ago.
Good news was also to be found in the alternatively fuelled vehicle market. This grew 34.8 per cent. A record number of hybrid, plug-in hybrid, battery electric and hydrogen fuel cell cars were registered, and the sector's annual market share grew to 4.7 per cent. UK consumers buy more plug in cars (BEVs and PHEVs) than anywhere else in Europe and demand grew by a quarter in 2017, to 47,263 new registrations – making Britain a key market for these vehicles.
Demand for petrol cars also rose in the year, but by a more modest 2.7 per cent. This was not enough to offset a -17.1 per cent decline in diesel registrations – the SMMT comments that anti-diesel rhetoric and the potential for tax hikes caused buyers to hesitate despite the potential fuel savings that diesel vehicles offer; it calculates that drivers of diesel-powered D-Segment family vehicles, SUVs and executive cars save an average of between £300 and £400 a year on their fuel bills. Across all body types, the SMMT calculates an average saving of £132 a year.
"The decline in the new car market is concerning but it's important to remember demand remains at historically high levels. More than 2.5 million people drove away in a new car last year, benefitting from the latest, safest, cleanest and most fuel efficient technology," said Mike Hawes, SMMT chief executive. "Falling business and consumer confidence is undoubtedly taking a toll, however, and confusing anti-diesel messages have caused many to hesitate before buying a new low emission diesel car. Keeping older vehicles on the road will not only mean higher running costs but will hold back progress towards our environmental goals. Consumers should be encouraged to buy the right car for their lifestyle and driving needs irrespective of fuel type – whether that be petrol, electric, hybrid or diesel as it could save them money.
"2017 has undoubtedly been a very volatile year and the lacklustre economic growth means that we expect a further weakening in the market for 2018," Hawes added. "The upside for consumers, however, is some very, very competitive deals."
Despite the overall decline, new car registrations remain high, with the market still the second biggest in the EU, behind Germany. At present, around 350 different car models are sold in the UK, and 60 new models are set to make their showroom debuts in 2018.