ETRMA members report stability for most segments in 2017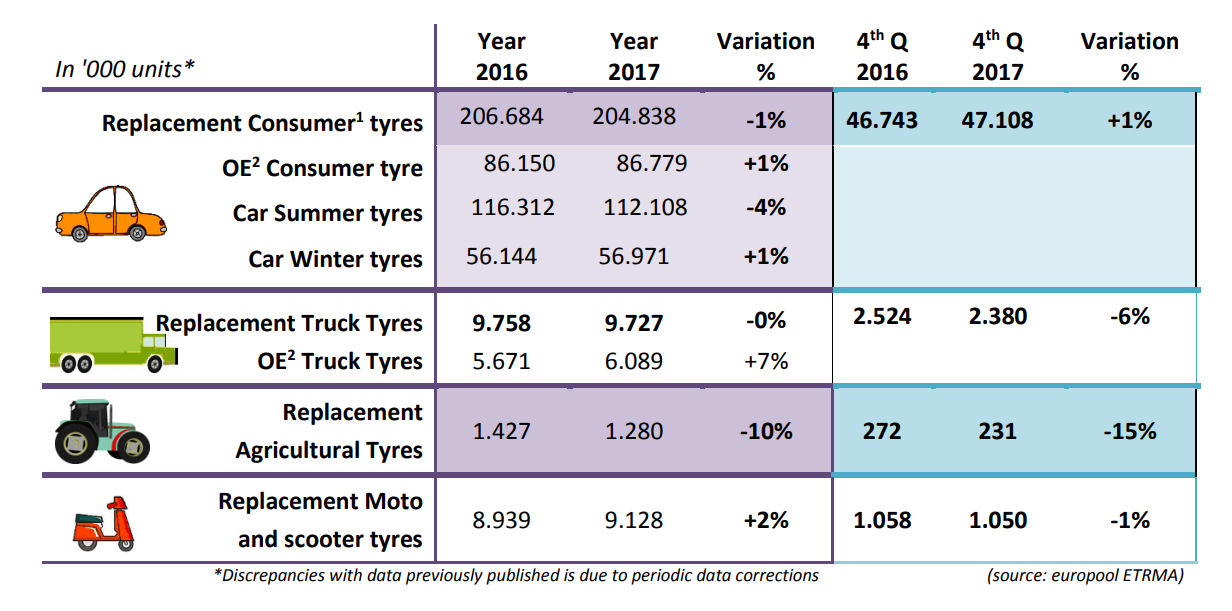 With the exception of agricultural tyres, sales of tyres produced by European Tyre and Rubber Manufacturers' Association (ETRMA) members were generally stable in 2017. The ETRMA reports that its members sold 204,838,000 replacement market consumer tyres (passenger car, SUV and light commercial vehicle tyres) in 2017, 0.9 per cent fewer than a year earlier. Sales of original equipment consumer tyres (including in the Turkish market) were up during the year, increasing 0.7 per cent to 86,779,000 units in 2017.
With regard to the mix between winter and summer tyres, the ETRMA notes that sales of winter consumer tyres slightly increased despite a generally mild winter in Europe prior to the end of the year. Sales of these products rose 1.5 per cent to 56,971,000 units. Reported sales for summer consumer tyres amounted to 112,108,000 units, a year-on-year reduction of 3.6 per cent. The ETRMA does not explain the discrepancy between its sales figures for summer and winter tyres and those for total consumer sales.
The UK market was Europe's fourth largest for replacement consumer tyres, behind Germany, France and Italy. UK sales for these products from ETRMA members were down around seven per cent in 2017, to approximately 17 million units.
Sales of replacement truck tyres in 2017 were at a similar level to a year earlier, with 9,727,000 units sold. ETRMA members reported a 7.4 per cent increase in sales of original equipment truck tyres (including in Turkey), to 6,089,000 units.
ETRMA member sales of replacement truck tyres in the UK were stable in 2017, with sales amounting to approximately 1.09 million units. Again, the UK market was the fourth largest in Europe, behind Germany, Italy and France.
In the replacement motorcycle and scooter tyre market, ETRMA member sales were up 2.1 per cent, to 9,128,000 units. UK market sales were around four per cent higher than in the previous year (and in 2015), reaching some 675,000 units.
The one real area of disappointment for ETRMA members was the agricultural segment. Europe-wide sales of replacement agricultural tyres were, at 1,280,000 units, down 10.3 per cent in 2017. Sales were slightly up in the UK, however, growing some 1.5 per cent to around 66,000 units.
"All in all, the picture painted by 2017 for our industry is one of stability, very much as foreseen at the beginning of the year," said Fazilet Cinaralp, ETRMA secretary general. "However, the continued poor performance of members' sales in the agricultural tyre segment remains striking, especially as imports continue to grow."
According to Eurostat data, imports of agricultural tyres from outside the European Union increased 13 per cent year-on-year during the first ten months of 2017. Imports from China were up nine per cent and those from India up seven per cent. The latter's market share of agricultural imports is now approaching 40 per cent.