Another Bridgestone podium at Suzuka 8 Hours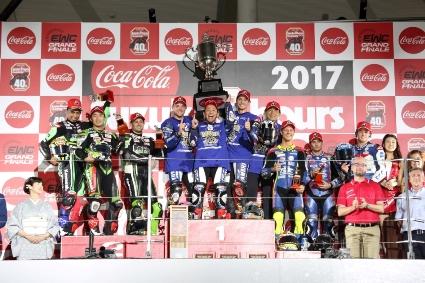 Bridgestone says it "swept the podium" at the 40th Coca-Cola Zero Suzuka 8 Hours Endurance Road Race. In addition to dominating the podium for the sixth consecutive occasion, each of the first ten racers across the line competed on Bridgestone tyres.
"I would like to congratulate the members of the Yamaha Factory Racing Team on their third consecutive win," stated Yuichi Nakada, vice-president and officer of Bridgestone Corporation. "We are honoured once again to join this prestigious race as a tyre supplier for select teams. We really thank the teams and members, and are pleased that this event marked 12th consecutive victory on Bridgestone tyres at Suzuka and teams on Bridgestone tyres dominated top ten."
"I'm really proud to have achieved three consecutive wins," said Wataru Yoshikawa, team manager for Yamaha Factory Racing Team. "Bridgestone tyres delivered great performance for eight hours, and contributed to our win. I would like to express sincere gratitude to Bridgestone as the Yamaha team representative for their collaboration and support with tyre management."
Kawasaki Team Green riders Kazuma Watanabe, Leon Haslam and Azlan Shah Bin Kamaruzaman finished second, while F.C.C. TSR Honda riders Dominique Aegerter, Randy de Puniet, and Josh Hook rounded out the podium, completing the 1-2-3 finish for Bridgestone-equipped teams.