May LCV market declines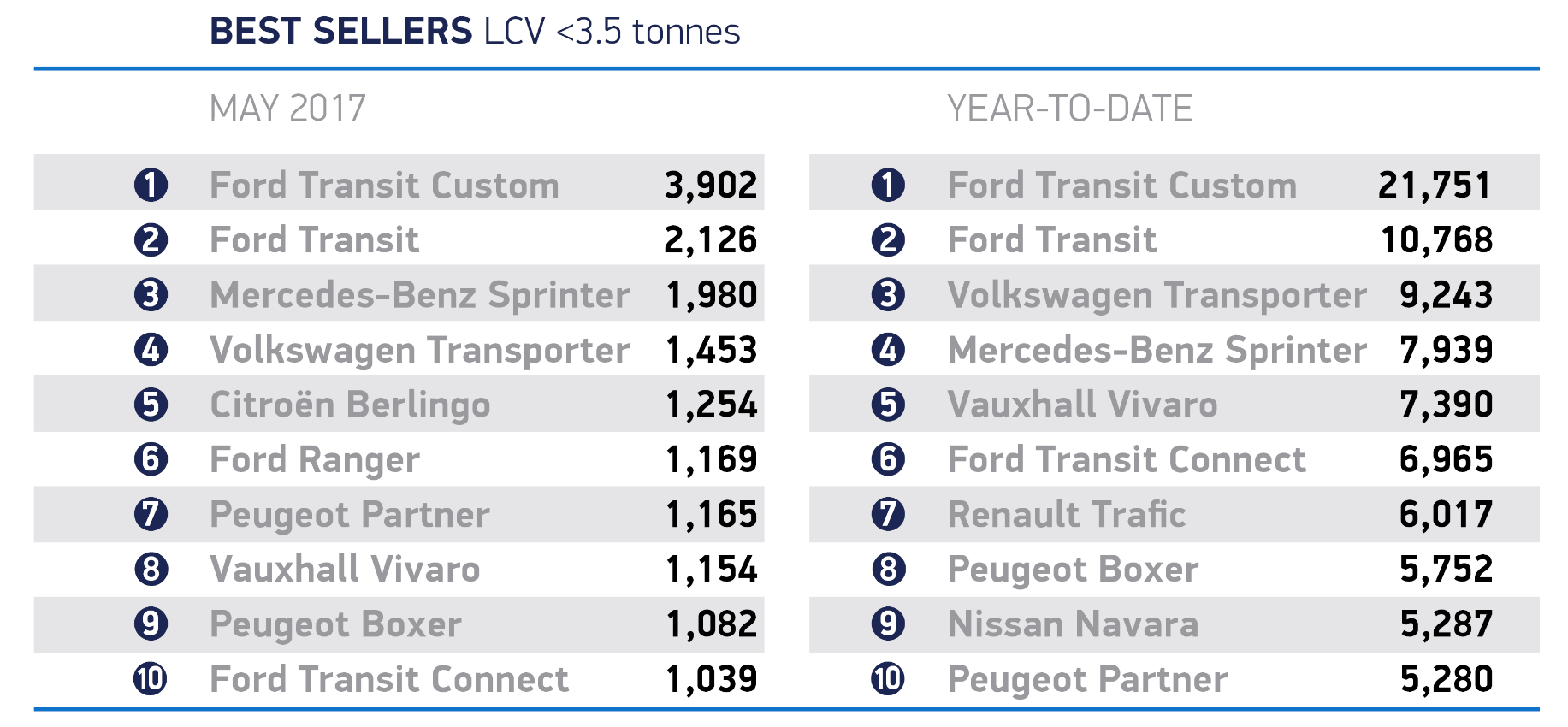 The light commercial vehicle market (LCV) declined in May following a period of exceptionally strong demand, according to figures released by SMMT. 26,982 new vans hit British roads in May, representing a fall of 5.3 per cent.
Demand for pickups continued its upward trend, with registrations increasing 26.2 per cent compared with the same month last year. However, the medium and large van segments experienced a decline, with registrations of vans weighing 2.0-2.5 tonnes down 2.1 per cent, while vans weighing 2.5-3.5 tonnes fell 10.1 per cent. The under 2.0 tonne segment, meanwhile, remained steady, with an 0.8 per cent decline representing just 20 fewer small van registrations than May 2016.
Mike Hawes, SMMT chief executive, said: "LCV registrations have experienced a period of stellar growth in recent years, so this decline was expected as the market stabilises. To put this performance into context, overall demand remains strong with year-to-date registrations up 51.2 per cent compared with the same period five years ago, and we expect demand to remain stable at similar levels throughout the year."
Sue Robinson, director of the National Franchised Dealers Association (NFDA), which represents franchised car and commercial vehicle dealers in the UK, said that the fall could be "a possible realignment of a market which was extremely buoyant last year. Ahead of the elections, dealers report a degree of uncertainty for customers who are likely to delay the purchase of a new van, as they are looking for reassurances and a more stable economy."
Demand for pick-ups has been increasing dramatically this year, up 26.2 per cent in May and 19 per cent in the first five months of 2017, and there appears to be no direct business reason for this, unless buyers are substituting conventional vans for pick-ups. This is now the second largest segment in terms of volume of vehicles registered with 22,230 units registered year to date. It is followed by the established mid-size vans of 2.0-2.5 tonnes, with 20,756 vehicles registered so far this year.
The NFDA said it was concerned to see that the largest sector of light commercials, comprising vans between 2.5-3.5 tonnes, which make up around 60 per cent of all light commercials' sales, slipped by 10.1 per cent in May and was down 4.2 per cent year to date. This might represent just a stabilisation, while vehicles are ordered by corporates and larger businesses which use them mostly for internet deliveries in all sectors including door-to-door supermarket deliveries.
Ford, with its wide range of commercials, remains the market leader with a share of around 32 per cent this year. However, it is showing a modest decline in volume of -1.3 per cent. Year to date, Mercedes vans have shown great resilience with growth of 6.2 per cent which takes their market share to 6.7 per cent.
Robinson added: "We will be looking closely at the light commercial vehicle market in the forthcoming months as we expect consumer confidence to pick up in the post-election period."