Deldo views market developments as a welcome change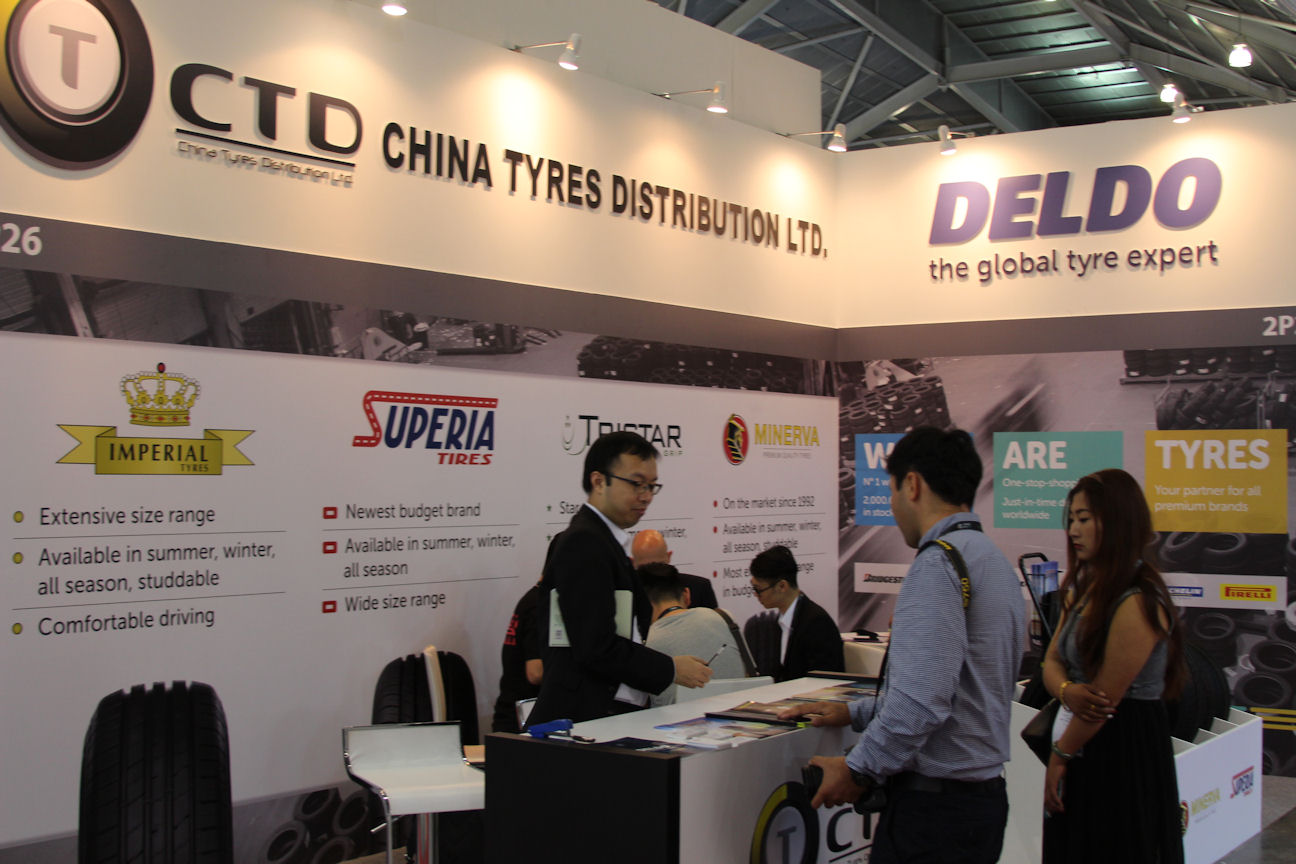 It's been the same old story for too long now – cheap tyres, overcapacity and low margins. For at least the last five years, Europe's wholesalers have watched these factors eat too much of their profits. But has the page now turned? Deldo's Tom Van Dyck thinks it has. In March, he shared with Tyres & Accessories his hope and expectation that current developments within the raw materials and logistics markets may give tyre industry players a new opportunity to make decent money.
"Rises in the cost of raw materials, particularly rubber, are making the entire industry pay attention at the moment, but we must differentiate between the short-term and the long-term impact of this," comments the director of sales and organisation. In the short-term, the trend to more expensive raw materials weighs heavily upon the budget tyre segment. Not only do raw materials account for a comparatively higher percentage of manufacturing costs than they do for premium products, many factories specialising in budget tyres, especially in China, don't enjoy the luxury granted to premium manufacturers of negotiating long-term, fixed-priced contracts for raw materials. "Therefore, in the short term, Chinese manufacturers are impacted much more quickly and need to increase prices immediately, whereas the premium manufacturers can wait a few more months," comments Van Dyck. "This means a competitive loss for Chinese brands in the short term in general."
The price increases announced by some budget tyre manufacturers have been eye watering, prompting Van Dyck to comment that "you can't present a customer in Europe with a 20 per cent price increase." He adds that the sudden, steep price increases from Chinese producers, including many factories that are reportedly now refusing to ship existing stocks at the old prices they were ordered at, has deterred a large number of European customers from placing orders for tyres in China.
"Deldo is a China specialist and we talk to a lot of factories, and they're all facing the same situation," elaborates the director of sales and organisation. "Almost no importers and wholesalers in Europe have placed orders or received tyres from China. This will certainly create huge shortages." At the start of March, Van Dyck shared his certainty that major shortages of Chinese-made budget tyres would occur in the following three months. "Three months of production from China won't be coming – that represents 10 million or 15 million tyres." As many people didn't place in orders at all in China between January and March, this will make things interesting when ordering for the 2017 summer tyre season peaks.
"With several million tyres missing from the market, demand for budget tyres will be huge, and if they can't obtain Chinese budget tyres, people will turn to other budget brands from elsewhere, to quality segment tyres made in Europe, and they will even look at premium brands." This situation, Van Dyck adds, should be seen as good news: "During the years of low and decreasing prices, our clients complained of difficulties shifting their existing stocks at a profit. Now the tyres in a customer's stock are growing in value, and this decreases pressure on margins. But companies will only benefit from this if they think carefully about what they do, and don't just sell to make a sale – something a lot of people have done over the past five years. This represents a chance for everybody in the market – not just manufacturers, not just wholesalers – to get profit margins back up to a normal level."
Deldo anticipates that its private brands will be affected to some extent by the shortages, and Van Dyck says one of the main challenges for Deldo will be to keep its clients working with a particular private brand even in the absence of sufficient availability. "We're doing our best to obtain tyres and offering our good dealers the availability that is there at a decent price." In regards to price, rising raw material costs have made it necessary for Deldo to increase the price it sells its private brands at, however the Antwerp-based wholesaler has absorbed a chunk of this extra cost; while prices went up at the start of March, Van Dyck says Deldo is "trying not to shock" its clients, and thus has "taken the biggest hit" itself. "The average price increase to our customers will be around three per cent this month, and we will reassess prices every four to six weeks. That doesn't mean we'll increase prices every month though."
Sales up everywhere – except in UK
Deldo is confident its private brands have a good future going forwards, as there will always be a section of the market looking for lower-priced products, and this won't change even if shortages in the budget segment force them to buy premium this year. In the meantime, a reduction in local stocks have helped the wholesaler to obtain a good result in 2016. "Even though 2015 was Deldo's third best year for turnover, it wasn't an interesting year profit-wise as there were just too many tyres in the market and everyone was playing with prices to make a sale. But last year we increased turnover by about nine per cent (2016 has now become the company's third best year for turnover) and were more profitable than in the past years. We made a profit as we noticed there weren't too many local winter tyre stocks in the market, and this meant everyone – not just Deldo – could make a healthier margin than in the previous years."
Van Dyck shares that Deldo's sales rose in almost all European markets last year. The one exception was the UK. The drop in sterling value following the Brexit vote affected wholesalers based in the Eurozone far more quickly than their counterparts on UK soil, who were able to continue their pricing for longer. The director of sales and organisation refrains from speculating about how the UK market will develop this year; there are just too many uncertainties, from how the Brexit will evolve to the extent our budget-dependent market will respond to a dearth of tyres from China.
One silver lining in the UK is that Deldo has seen a substantial increase in sales of premium brand tyres since last October. Van Dyck comments that this upswing in sales is linked to exchange rates: "At times, premium manufacturers adjusted their pricing linearly at times, creating a situation in which we've sometimes been a lot cheaper in certain sizes and brands than the manufacturers."
The country where Deldo makes the most turnover is Germany, unsurprising given that the country is Europe's largest tyre market. But it's also one of the most difficult, and therefore the wholesaler has taken particular effort to invest in partnerships there and to carefully decide who should, and shouldn't, work with a specific private label. "This is something we've been doing more and more this past two or three years, and the result is very nice sales figures and good relationships with customers," comments Van Dyck. He stresses the importance of this approach, considering the high online transparency and low logistics costs that make Germany a difficult place for wholesalers to do business.
Logistics is an area where Deldo is carefully watching developments. Tom Van Dyck expects logistics costs to rise, affecting online players. "Online sellers won't disappear, but what will happen to the online platform and online sales if a parcel should cost several euros more than previously? And how will this impact traditional players, who should have a bigger interest than before in buying stocks and delivering locally within their region. This is a big question for the years to come, for Europe as a whole but especially Germany, and it doesn't have to be a negative development."
Europe's tyre wholesalers have worked in a difficult environment over the past five or six years. Many have been hard pressed financially, and all have had issues with margins. "But now the market is changing a lot," comments Van Dyck, looking beyond the current tyre price increases. "In one or two years, logistics costs will rise steeply. This will again impact the tyre business, but it doesn't have to be a negative story whatsoever. I'm happy that something new and different is happening to what we've seen in the past five or six years. With the changes in logistics pricings, I think it may be possible for some companies to get out of the negative spiral they're in. Really, I look forward to it."
Private brand growth, new warehouse
Regardless of when these changes occur or how far-reaching they are, Deldo intends to maintain the fundamental business model it has relied upon for years – a model that is based upon diversification, both in regards to the products on offer and where these are offered. "We have our private brands and we have general brands, and this will never change," comments Van Dyck. "We also like to spread our risk – although sales in Europe account for a significant majority of our turnover, we work in around 70 countries around the world." The director of sales and organisation adds that the wholesaler regularly assesses its set-up and holds the option of switching its private brand production to another factory in China or even to another country should this prove advantageous, however any changes it may make in future will be small tweaks rather than a whole new approach to the business.
The private brand ranges Van Dyck mentions continue to grow. He shares that new additions, including a new pattern with 60 sizes were made to the Minerva, Imperial and Tristar brands for the winter we've just had, and five new summer patterns have recently been introduced. In total, 45 new summer sizes have been released, including 25 SUV sizes. In the coming month or so the company will also roll out 19 new all-season sizes, lifting its all-season portfolio to a total of 90 sizes.
Deldo has offered the Fortuna private brand for around 15 years, but recently it arranged for the manufacture of summer tyres to commence at a second production site. Tom Van Dyck shares that this has allowed the Fortuna portfolio to grow by a further ten patterns and 160 individual sizes. He adds that 70 new Fortuna all-season tyres are also being introduced.
A bigger range means bigger stocks, and Deldo is now getting ready to build a second warehouse a mile or so away from its main warehouse in Antwerp's harbour area. This 30,000 square metre warehouse will replace a rented warehouse of around 12,000 square metres and will give Deldo the chance to increase its stocks if desired. The new warehouse site is currently bare land, however Van Dyck says work on the structure will be finished by the end of this year and the warehouse will be operational in 2018. He adds that Deldo's new warehouse management system, which was first introduced in 2015 and has now led to a ten per cent increase in the number of tyres each order picker can process per hour, has already been designed to incorporate the second warehouse and the buffer stock it will hold.                                    stephen.goodchild@77.237.250.82