Deldo sees scope for growing in a difficult market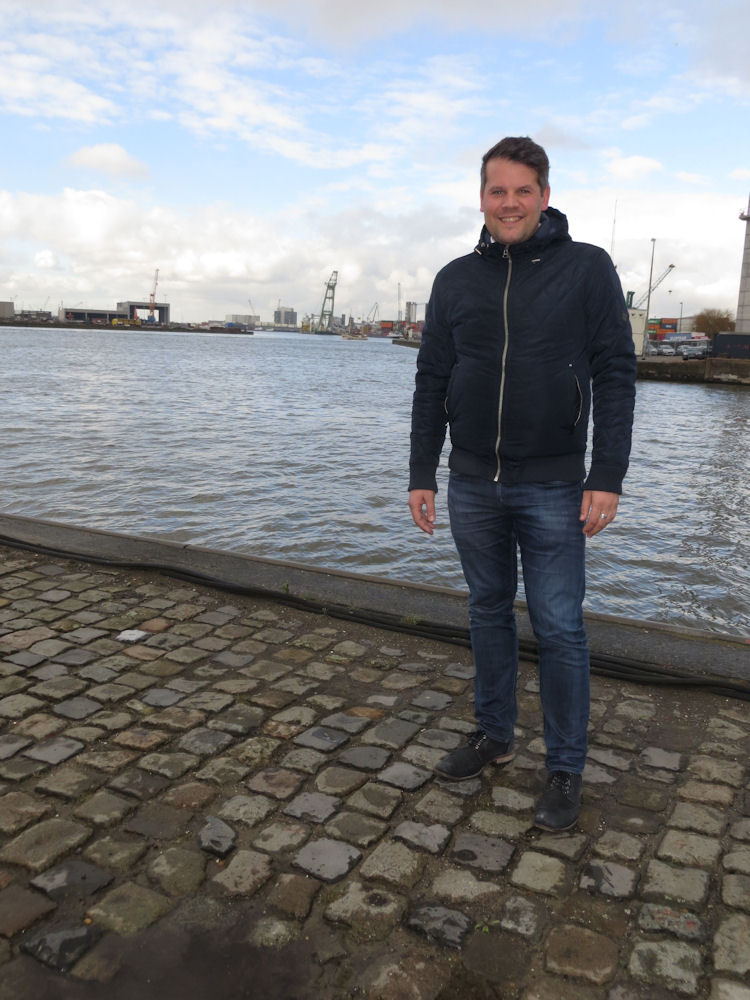 The rules that apply in business are much like those we use as individuals. How we respond to a situation, for example, depends on the way we view it. For a company, changes to the market can either be seen as a threat or an opportunity. Belgian firm Deldo prefers the latter approach, and is finding new possibilities within the state of flux that is today's tyre wholesale market.
"Opportunities exist, even in difficult times," comments Tom Van Dyck, director of sales and organisation at Deldo Autobanden. "Every change and every difficulty means a chance to find a new opportunity." While Van Dyck doesn't downplay the significance of the internet and the transparent pricing and abundance of online sales portals it has spawned, and he doesn't ignore certain tyre manufacturers' inroads into the wholesale business, he sees no reason for firms like Deldo to unfurl the white flag. "These market developments may be challenging, but they are challenges that offer Deldo an opportunity to further grow."
According to Van Dyck, responding to changes in the market needn't entail a complete change of direction; in Deldo's case, the company is keeping its sights on what it does best – tyre wholesale and private brands – and is investing to help it act with greater efficiency here by building on existing strengths. This can be seen in the company's warehouse in Antwerp, where Deldo recently completed a several million euro investment. "During the course of 2015 we finalised a restructuring of our warehouse's organisation and implemented a new IT system, our Warehouse Management System." The new system's launch was accompanied by modifications to the warehouse's physical organisation, including changes to the way tyres are distributed across the warehouse and how they're replenished.
The changes were introduced last September, immediately prior to the start of the 2015/16 winter season, and were running smoothly within a couple of weeks. "Winter went well with the system and at the moment we're seeing the first results; the number of tyres an individual can handle per day has increased by up to seven per cent." Warehouse staff are still getting acquainted with the new system, and Van Dyck points out that seven per cent is just a good start – the goal is to increase efficiency by 15 to 20 per cent, a level that should be reached this year and in the long-term even exceeded.
Unlike some competitors' warehouses, the Deldo facility is not crammed with automation. Tom Van Dyck comments that the Deldo way is "evolution, not revolution," and at present the wholesaler doesn't see physical automation as the best way of moving tyres around its 80,000 square metre warehouse. "The automation implemented through our new IT system has taken over a lot of administrative tasks that were formerly prepared manually. It's made order picking a lot more efficient."
The greatest increase in efficiency so far has been witnessed in Deldo's parcel shipment business, which Van Dyck estimates to be operating ten to 12 per cent more efficiently than it was a year ago. Although only a limited number of the tyres leaving the warehouse in Antwerp are parcel shipments – most deliveries are still made by container or truck – this type of delivery has become much more popular over the past five to ten years, and its significance for Deldo is expected to grow in future. The parcel business is, incidentally, the most highly automated means of dispatch at Deldo, and utilises a line for drop shipping that features automatic product recognition.
Budget segment under pressure
The purpose of the new system is to lower overall costs in what is, especially in Europe, a difficult tyre wholesale market. In addition to prices coming under pressure from online transparency, Van Dyck notes that the budget tyre segment in particular is being squeezed at the moment due to a number of factors, including an economic slowdown in China and the introduction of tariffs on Chinese-made consumer tyres in the USA. "Not all Chinese factories are allowed to supply their domestic market, as it is mainly government-owned plants that deliver original equipment tyres within China. Most plants are therefore dependent upon export markets, and as a result of the US tariffs they have strengthened their focus upon Europe."
Rising numbers of Chinese suppliers vying for a slice of the European market could be viewed as a threat to any wholesaler with a strong focus on budget tyres, however Deldo continues to grow within the segment. "A lot of low prices are coming out of China, but what we're seeing is that many customers are hesitant to take these offers up," comments the sales and organisation director. "What's being offered is crazy, and people don't trust it."
Van Dyck agrees that price is important and concedes that Deldo has experienced some price pressure due to the many offers in the market, but he emphasises that price alone isn't the be all and end all. "Deldo offers the best possible price through supply chain optimisation, together with a level of product availability and flexibility only achievable by having your own warehouse here in Europe. This combination sets us completely apart from the brokers in China, so instead of concentrating on price we are focusing on these other elements."
Service is one aspect of this focus. "You can buy cheaper in China by yourself, of course you can, but you need to arrange everything yourself, you must pay in advance and then wait and see what will be in the container when you open it," comments Van Dyck. "Will it be what you ordered or something else entirely?" When dealing with Deldo, customers pay a fixed price that covers sea and land freight, import duties, port costs and currency exchanges: "Customers know they'll get exactly what they order."
A second point of difference lies in the products themselves; while many wholesalers largely deal in budget factory brands, Deldo focuses on private brands that it owns. "We decide how our private brands develop, we decide who can buy them, we determine pricing and we select the sizes and patterns that will be developed." Owning a brand also gives Deldo control over which factory is allowed to produce it and a free hand when it comes to marketing the brand. "We try to make a difference in this way," Van Dyck observes. "We see it as added value. Factory brands are price-competitive, but you'll end up in trouble if price is your only unique selling point."
Deldo has responded to demand for all-season tyres by investing in this segment, introducing fitments into its private brand ranges last year. Tom Van Dyck says these products have proven very successful, and this year the wholesaler is introducing a further 20 new budget all-season dimensions, boosting availability to 68 sizes. "We offer a larger all-season portfolio than anyone else," he comments. A further 20 winter sizes will also enter the Minerva, Imperial and Tristar private brand ranges in 2016.
While most of Deldo's private brand business (and all its premium brand business) involves passenger car tyres, the wholesaler has been present in the budget truck tyre segment on a restricted basis for several years now through its Minerva brand. Deldo is now expanding in this area. "We have a new truck tyre brand, called Grenlander," says Van Dyck. "It launches this year in 40 sizes, and we're also adding 30 new sizes to our current Minerva size range." The wholesaler won't stock premium truck tyres, however, as it believes these products lie outside the Deldo area of specialisation.
Private brand, corporate websites
As the owner of a number of private brands, Deldo is ultimately responsible for how these products are advertised and presented to end consumers. In order to create a brand identity for each range and give its clients a tool to use with their customers, Deldo is currently developing a dedicated website for each of its private brands; the sites will go live before the Reifen 2016 trade show in Essen, Germany. Van Dyck comments that the sites don't mention Deldo, and each features a different look and feel.
While these private brand sites don't name the wholesaler behind them, Deldo isn't being neglected online. The director of sales and organisation shares that a new corporate website is now being created. "The new site will offer a new look plus a slight restyling of the Deldo logo." Along with a new look and logo, the site will bear Deldo's new slogan: We are tyres. "It's rare for a company in our business only to deal in tyres – most also sell rims, steel wheels, valves and accessories," Van Dyck explains. "We decided long ago to solely specialise in tyres. We want to be experts at what we do."
New channels, new offers
As said at the beginning of this article, a company can choose to view market changes as either a threat or an opportunity. Those opting not to panic in the face of price transparency need to find where their strengths lie, be it in range, availability, quality of supplier, or in market intelligence. Success in the last of these, Van Dyck stresses, depends upon experienced employees. "You need to invest in people to truly know your market. Being sensitive to the market is labour intensive, but if you stop investing in people who are close to the market and instead rely 100 per cent on computers to determine your pricing, the price battle will kill you."
It seems the Deldo strategy of investing in people is the right one. According to Van Dyck, 2015 was Deldo's third-ever best year for turnover at a global level, and although the market is preparing for a difficult 2016, especially in the budget segment, the wholesaler grew in every market during the first two months of the year. "Our size and strength gives us an advantage in a difficult market," he states. "We're gaining opportunities from many new channels, and our partners are giving us more and better offers than before.
"You can see threats, but it's better to look at the other side and see them as possibilities," adds Tom Van Dyck in closing. "And I think it's important to be excited and enthusiastic about changes in the market, even if these sometimes come as a surprise. A change can also be an opportunity."