Nokian launches Hakkapeliitta Truck F2 steer tyre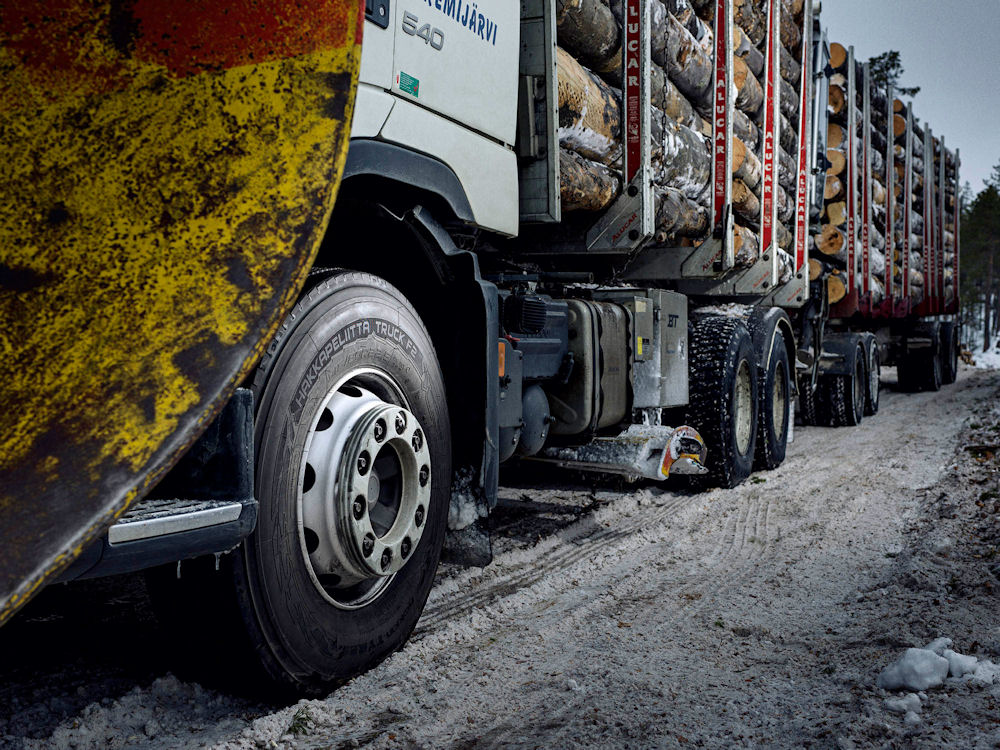 When it comes to winter driving, Nokian Heavy Tyres observes that an extra couple of percentage points improvement in grip "makes all the difference." This is why when developing a successor to the Hakkapeliitta Truck F, the Finnish tyre maker says it wanted to make an "already excellent" steer tyre "even better." The Hakkapeliitta Truck F2, it adds, is a completely redesigned tyre with a "more aggressive tread pattern" that maximises grip.
"Hakkapeliitta Truck F2 has many new innovations," reports Nokian Heavy Tyres. "New type of Spiral Sipe System gives the tyre excellent grip even when worn. Tread grooves have wide zig-zag shape which makes the self-cleaning more efficient and gives extra grip on snow with more edges. Further developed groove design with larger and more intelligent stone ejectors protects the carcass from penetrating stones. The F2 has new shoulder area design which improves the handling and mobility when driving in deep snow conditions. Hakkapeliitta Truck F2 can also be studded for more grip and it has prepositioned stud arrangement to make the studding easier. F2 is also equipped now with modern and unique sidewall design."
The tyre maker adds that it minimised heel/toe wear in the Hakkapeliitta Truck F2 by employing a "clever design" in the tread's block siping. Nokian also reports low rolling resistance and driving noise. Nokian Heavy Tyres lists the Hakkapeliitta Truck F2's other qualities as follows:
Spiral Sipe System
Hakkapeliitta Truck F2 features refined siping system in tread blocks. This Spiral Sipe System means enhanced grip level will be available even with worn tyre.
New zig-zag grooves
Self-cleaning of the tyre is important when operating in hard conditions. Open design and wide groove improve cleaning effect. At the same time wide grooves allow more gripping edges to be in contact with driving surface.
New groove design and stone ejectors
To prevent effectively stones from penetrating the tyre tread groove bottom Hakkapeliitta Truck F2 features new and improved design for stone ejectors. Now the stone ejectors are larger and protect more effectively the groove bottom.
New shoulder shape
Shoulder shape is important especially for winter tyre which is made to operate in snow conditions. F2 introduces new shoulder area design which makes the tyre cut through the snow easier while at the same time giving instant feedback to the driver about the road conditions.
The Hakkapeliitta Truck F2 range includes size 385/65R22.5, 315/80R22.5, 315/70R22.5 and 295/80R22.5 fitments. Products will come to market in autumn 2017.