Dmack launches new studded winter tyre for WRC challenge on Rally Sweden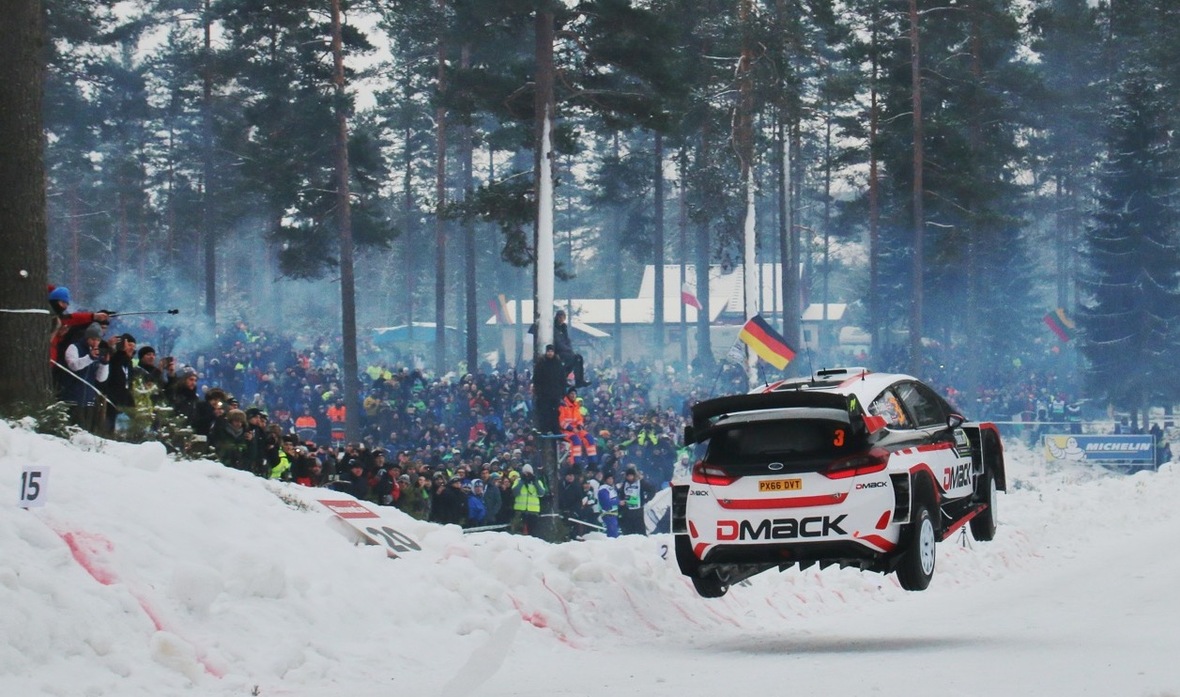 Dmack has launched its latest tyre for the FIA World Rally Championship on the second round of the 2017 series, Rally Sweden. The new studded winter tyre delivered competitive times on one of the most specialist events for tyre manufacturers. The Carlisle-based brand said the tyre has built on "both success and technical information gathered from previous seasons" in producing the DMG-ICE2 tyre. The Dmack crew of Welshman Elfyn Evans and co-driver Daniel Barritt finished sixth, equalling their best finish in Sweden.
After setting three fastest stage times on the season-opening Rallye Monte Carlo last month, Evans and Barritt were on confident form and immediately settled into a strong pace on Friday's full day of opening action around Torsby. But Evans ran slightly wide on a medium-speed, right corner on stage four and his Ford Fiesta WRC ploughed into a snow bank – smashing a chunk out of the rear wheel in the process. He was forced to limp to the end of the stage and dropped back to 12th place.
However, despite being slowed by running near the front of the field for two days and losing more time today when the engine dropped down on power for an entire stage, the pair mastered the ultra-fast, frozen forest roads, climbing their way back up to sixth place.
Benefitting from a new directional tread pattern, the DMG-ICE2 has 384 metal studs in each tyre, and using upgraded technology which resulted in improved stud retention. Its performance was described as "a significant leap forward for Dmack", signalling its intention to target front-running pace on all events and surfaces this season.
Rally Sweden once again saw action cross into Norway and finished this afternoon in Torsby after 17 competitive stages and 300km of action on the ice-packed roads.
Evans holds sixth place in the overall championship standings as the action moves to the high-altitude, gravel stages of Rally Mexico in March.
Dick Cormack, Dmack managing director, said: "In general, we were very happy with the performance of our new DMG-ICE2 tyres and have showed a very competitive pace once again with the new cars when on a level playing field. The stud retention and tyre performance was extremely good all event, however, Elfyn's mistake on Friday meant he lost road position and ended up running behind the narrower world rally cars."
Elfyn Evans, Dmack WRC driver, said: "Overall it's been an encouraging weekend after having limited testing before the rally. Our pace was strong on the first day but unfortunately the mistake dropped us time and also meant we were disadvantaged by running at the front of the field. However, it's another good haul of points, we are sixth in the championship and I'm confident as we head to the more traditional gravel events."