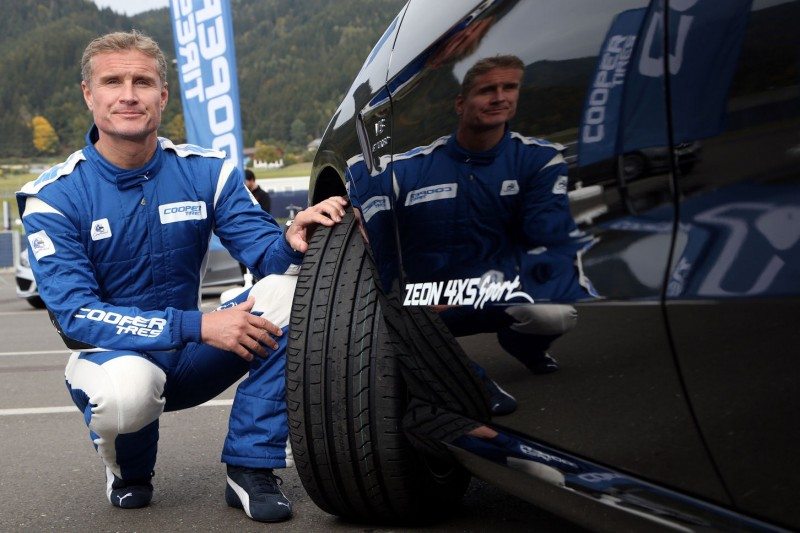 David Coulthard provided feedback that influenced the final construction and compound selected for the 4XS Sport
It narrowly missed taking first place in the ADAC's test of 15 size 215/65 R16 98H tyres, but the Cooper Zeon 4XS Sport nevertheless received the same 'good' rating as the victor – the only tyre to do so. Austrian partner association the ÖAMTC and Switzerland's TCS gave the Cooper tyre a rating of 'highly recommended' in their versions of the test, and Cooper Tire Europe has expressed its pleasure in the motoring organisations' positive evaluation.
"We are proud to receive this accolade from ADAC for the 4XS Sport, an extremely popular and versatile SUV tyre, offering customers 'A' grade for wet grip. Bringing together numerous advanced technologies, Cooper has developed the 4XS Sport as a leading tyre in this market segment across Europe," states Sarah McRoberts, marketing communications manager at Cooper Tire Europe.
Designed for medium and large SUV fitments, the 4XS Sport offers European label 'A' grade wet grip performance as one of its strongest points. Replacing the Zeon 4XS and XSTa, the 4XS Sport was developed with an asymmetric tread pattern specifically designed to cope with the weight of large SUVs. It also benefited from input from David Coulthard, who tested development variants of the tyre at the Vallelunga circuit. Coulthard's feedback provided direction for the final construction and compound selected for the tyre.
Large circumferential grooves in the tread are designed to quickly and efficiently clear water from the contact patch to reduce the risk of aquaplaning in the wet, while a large central rib is present for increased feel and driving response.
Using a new algorithm, the tread blocks are split into different sized blocks to reduce harmonic noise. The edges of the individual tread blocks are also chamfered to help eliminate uneven wear and to reduce contact noise on the road.
Introduced as part of Cooper's new high performance product range, the tread pattern of the 4XS Sport features 3D sipes which have interlocking three dimensional points inside the sipe. These 3D sipes provide the same benefits of a traditional sipe, including helping the tyre warm up and providing enhanced wet grip, but limit the amount of flex in the tread block which helps control the amount of heat generation in the dry and keeps the tread block stable.
Category: Product News