Halfords the official sponsor of National Pothole Day 2017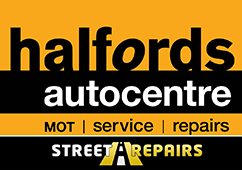 Halfords Autocentres have become the official sponsors of the StreetRepairs.co.uk website and #NationalPotholeDay 2017. The collaboration heralds a breakthrough in offering road users the ability to have the safety of their vehicles checked after hitting a pothole. Potholes are an increasing problem on Britain's roads, causing damage to vehicles and presenting a potential safety hazard.
Every Halfords Autocentre throughout the UK now offers a steering, tyre, and suspension safety check absolutely free of charge. This road safety initiative is yet another way of assisting UK road users when their vehicles are damaged by the dreaded pothole or other road defects.
A Halfords Autocentre Report-A-Pothole system is also available nationwide, empowering road users to improve the quality of their streets and roads.
Tyres, suspension and steering can be susceptible after hitting a pothole but are also crucial components of any vehicle. With 313 Halfords Autocentres nationwide motorists can now have peace of mind after hitting a pothole that they can have their vehicle checked at any Halfords Autocentre free of charge.
Speaking about the collaboration, a spokesperson for Halfords Autocentres said: "Halfords Autocentres are pleased to be the official sponsors of National Pothole Day 2017 in partnership with Streetrepairs. We care about the safety of the UK motorist, that's why we decided to sponsor #NationalPotholeDay. It made sense that we offered a free steering, tyre and suspension check carried out by our fully trained technicians after hitting a pothole."
Halfords Autocentres is the largest car service network in the UK. Alongside Halfords retail stores the addition of full service capability means the Halfords can offer the complete vehicle maintenance package. Halfords Autocentres offer the best of both, a cost structure which is competitive but a service which also delivers high standards and does not compromise manufacturers' warranties, the backing of a large group and the latest technology and training.
Mark Morrell, spokesperson for Street Repairs, said: "Working with one of the UK's most recognized motoring brands to ensure the safety of road users is yet another exciting step towards correcting road safety issues and encouraging more people to get involved with the issue of road maintenance and vehicle damage. With more road fault reports being submitted and greater visibility of the progress of repairs, road users, councils and the highways agency can work together to keep roads safe and free from potholes and other road defects."