Whitelaws signs up for Conti only tyre policy, ContiPressureCheck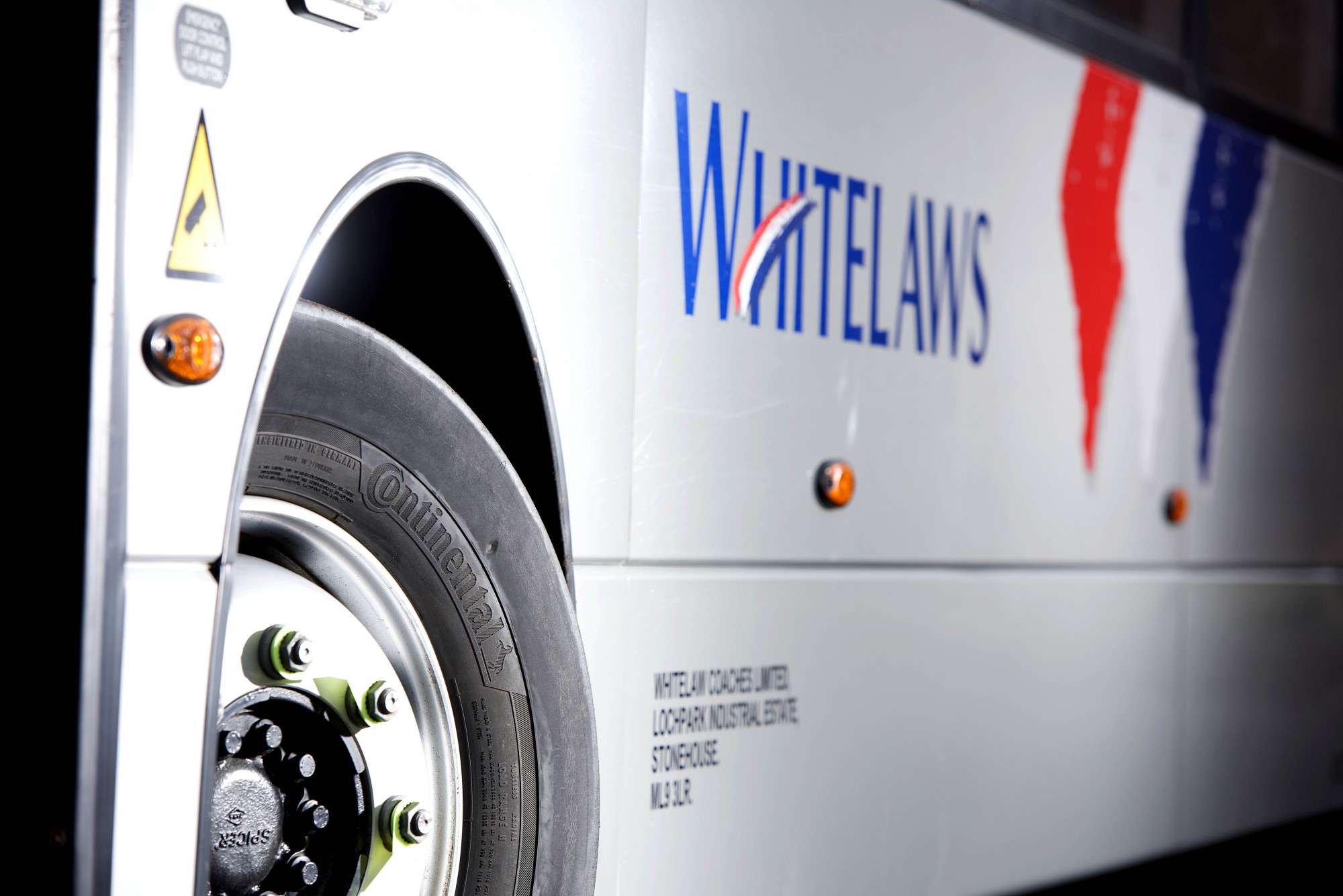 Scottish bus and coach operator Whitelaws Coaches has implemented a Continental tyres only policy on its fleet following tests against its previous tyre choice. George Whitelaw said, "We had been running other premium tyres for a great many years, but when we were offered the chance to trial Continental's equivalent product on two of our hard-working bus fleet, we thought it would be good get some sort of measure on how well our policy had been serving us. We were very pleasantly surprised to discover Continental's Urban HA3 M+S tyres significantly outperformed the tyres we had been using."
The trials were conducted, using brand new tyres on both vehicles: a pair of Alexander Dennis Enviro200 MMC buses. The results showed improved wear characteristics as well as the opportunity to save initial investment costs. "We were genuinely surprised. The old tyres were not 'budget' tyres by any measure and we certainly wouldn't have entertained them on this type of work if they had been. After the trials we felt the Continental tyres delivered a genuine improvement in terms of performance and economy, without in any way impacting safety – other than enhancing it," added Whitelaw.
Whitelaws decided to run with Continental's Urban HA3 M+S 265/70 19.5 tyres. "We are talking about premium buses here," said Whitelaw, "all low carbon certificated units. So we looked at the results of this trial as an opportunity to maintain the high performance levels of the bus, but with the chance to find greater operating economy.
"The low carbon approach is the future as far as we are concerned, and we have found that by switching to Continental products, we get far more miles out of each set. Our previous tyres were giving us an average of around 30,000 miles before a change, whereas the new Continental's are running up to 70,000 miles before needing to be replaced. Already we have saved thousands in terms of reduced tyre wear and downtime – and we've only just started."
The company believes that by making this move, based on averages of over 90,000 miles per annum for each vehicle, it is saving one whole set of tyres, per vehicle, per year, across the fleet. With four more Enviro200s due in shortly to join the 12 strong service bus fleet – manufacturer ADL has already been asked to fit Continental tyres to the new arrivals. Whitelaws is now well advanced on rolling out the replacement programme on those existing vehicles and the dozen school buses it also operates. George Whitelaw feels fuel too is almost certainly benefitting from the new approach, though admits, "We run over a lot of very rural routes, with some town and city work, but it isn't the type of operation where you can monitor fuel economy with any real certainty. However, I would say we are almost certainly benefitting from the new tyres in this respect – and especially as the pressure checking system means they are running all at the right levels almost continuously."
To help address the importance of safety in school and service buses and touring coaches, as well as adding further economic benefits, Whitelaws has also opted for the ContiPressureCheck TPMS system as it introduces the new tyres to its operations.
ContiPressureCheck constantly measures pressure and temperature of all tyres on a vehicle. The information gathered helps operators enhance safe operations, save fuel and increase mileage by ensuring tyres are always at optimal inflation pressure. It also significantly reduces the risk of roadside breakdowns – which can not only be costly, but also massively inconvenient and potentially dangerous should a coach load of passengers be left stranded at the roadside.
Already, reports George Whitelaw, the system is making its presence felt. "We have had four slow punctures reported by the system since we started," he says, "allowing us to react immediately. It meant we could maintain the high safety standards we set ourselves, as well as allow our drivers to operate proactively and get to a service point before any lasting damage was done to the tyres."
RJ Strang Tyre Services, with depots close to Whitelaws' base in Stonehouse in Lanarkshire, is the local Continental agent. It is also the Conti360° Fleet Service representative, supporting local operators with comprehensive tyre checking and servicing back-up. The Continental team itself also takes a keen interest in the progress of Whitelaws Coaches, with regular visits to the operator from both the field service manager, Ronnie Smith and the local truck sales manager, Guy McDowall. "They are often in and out," reports George, "checking tyre tread depths, pattern wear and for any incidental damage. We didn't expect this, but it is good to find a manufacturer that actually understands how important their products are to a company such as ours… and genuinely seems to care."