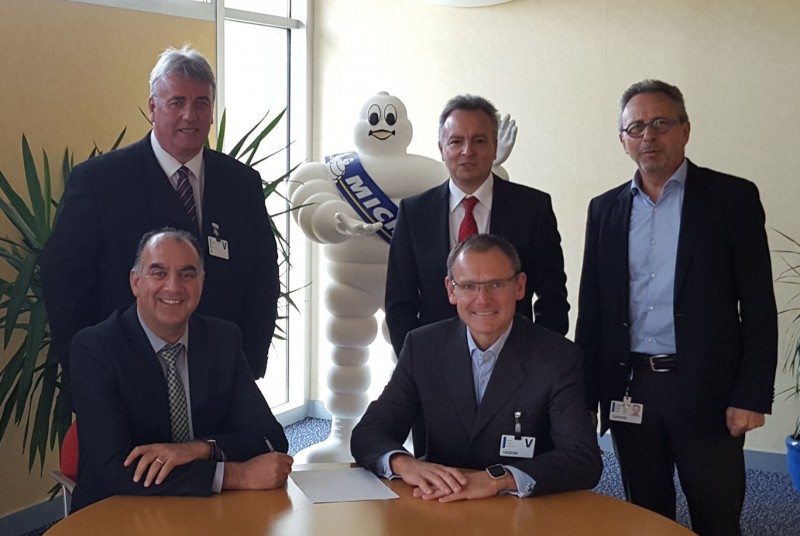 (l to r): Sid Sadique (seated), Steve Richardson (MD of NRG Group), Laurent Bourrut (Michelin European truck director), Guy Heywood (seated), Patrick Derossis (Michelin European truck sales director)
Michelin Tyre has been contracted as the exclusive supplier of retreaded tyres to Direct Tyre Management (DTM), and under a four-year agreement will supply around 20,000 truck brand tyres per annum. The Encore-brand tyres will be retreaded in Michelin's Stoke-on-Trent factory.
"This is a really pleasing contract win for us," comments Guy Heywood, commercial director for Truck and Bus at Michelin. "Encore tyres will allow DTM's customers to benefit from UK-made, high-value, high-quality tyres built on high-quality casings that deliver excellent all-round performance. We can't wait to get started."
DTM is said to be the UK's leading independent tyre management solution provider and manages commercial fleets across the country. DTM is part of NRG, a rapidly growing one-stop-shop fleet management group which provides vehicles, service, maintenance and repair across its network of 36 service centres across the country.
"This is the right agreement for our customers," adds Sid Sadique, group chairman at NRG/DTM. "Our whole business is based on saving our customers money at the same time as removing the headaches of tyre management and ensuring excellent health and safety practices. This deal with Michelin will help us do exactly that."
Category: Company News, UK News