Michelin closing Ballymena factory, investing in Dundee and Stoke-on-Trent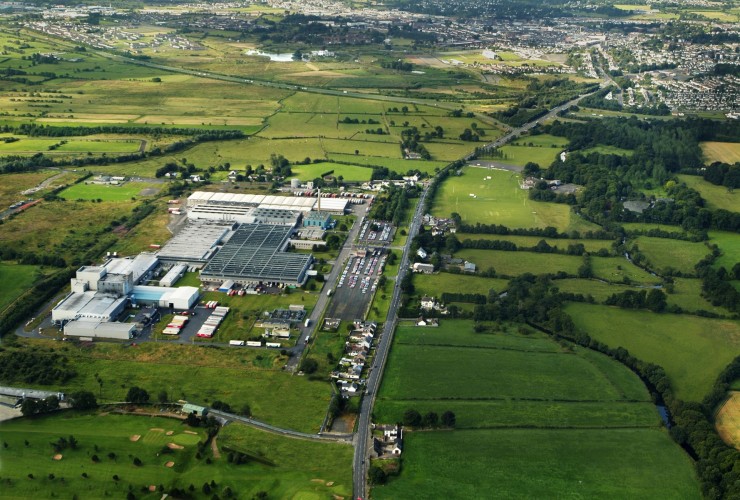 Michelin Tyre Plc is consulting on the closure of its Ballymena truck tyre factory at the same time as investing in the expansion of its Dundee car tyre and Stoke-on-Trent retreading sites. The Ballymena factory closure plans suggest the site will be run-down between now and a mid-2018 closure point. The Ballymena factory currently employs 860 people and Michelin says it is "committed to supporting those employees during consultation and in the forthcoming months".
This support will include enhanced redundancy payments, training and advice to find new employment quickly, Michelin reports. Employees prepared to relocate will be offered a job in UK or European plants with relocation support. Support will also come via Michelin Development, which is prepared to release more than £5 million to help company start-ups fund expansion at existing businesses and supply investment to attract new businesses to Ballymena.
Having stated that his and the company's thoughts are with everyone affected by today's news, Michelin UK managing director Wayne Culbertson told Tyres & Accessories that this particular consultation and run-down period has been selected in order to work with unions and current employees so that they can try and help them find alternative work arrangements either inside the Michelin UK or elsewhere in Europe. Therefore the process could be completed faster than 2018, but it may not.
According to the company, the proposal to run down the truck tyre factory in Ballymena has been made in light of the significant downturn in demand for truck tyres as well as increased low-cost imports. Michelin reports that the financial crisis resulted in the market decreasing by over 5 million tyres since 2007. At the same time the reduced market has been made even more challenging by the huge influx of tyres made in Asia, which have doubled in the last few years.
"As a result, there is a strong need to reduce overcapacity and to concentrate Michelin truck tyre production in larger, more competitive sites", Michelin's statement read.
The point is that despite the efforts made in previous years, other European plants are still more competitive than Ballymena. In addition, the tyre building machines at Ballymena need to be upgraded to keep pace with technology and the amount of investment required to upgrade the plant is "prohibitive", particularly given the aforementioned market context and over-capacity.
Investments in Dundee and Stoke
Meanwhile, Michelin also announced £65 million of investments at its Dundee and Stoke-on-Trent sites. Dundee will benefit from a five-year investment of more than £52 million to modernise the factory.
The investment will increase production by 30 per cent through the installation of new tyre-building machines, enabling the production of larger tyres. Tyre curing capabilities will be increased with the installation of electric presses, the first large-scale industrialisation of this technology at a Michelin production site. And a new 20,000 square metre warehouse will be built on site to accommodate this increased production.
Michelin will also invest £12 million in its production and logistics facilities in Stoke-on-Trent. This will include a modernised distribution centre of 53,000 square metres in Stoke to serve all Michelin customers, dealers and partners from a single shared logistics platform. T&A understands that this will be house in existing space at the firm's Stoke location. The firm will also "further consolidate" the money it has put into retreading machinery in recent years, by splitting the £12 million between the logistics and retreading functions.
According to Michelin, this series of investments will lead to the creation of a total of more than 100 new jobs across both Dundee and Stoke-on-Trent. And this in turn speaks of Michelin's continued confidence in its UK operations: "This [investment] is a strong statement. Michelin is here to stay. Michelin is a great place to do business and for manufacturing," Wayne Culbertson commented.
Michelin's closure news follow's Goodyear Dunlop's decision to close its Wolverhampton mixing and retreading factory, which initially entered consultation on 5 June.