Fully automated Remix factory amongst the most modern in the Michelin group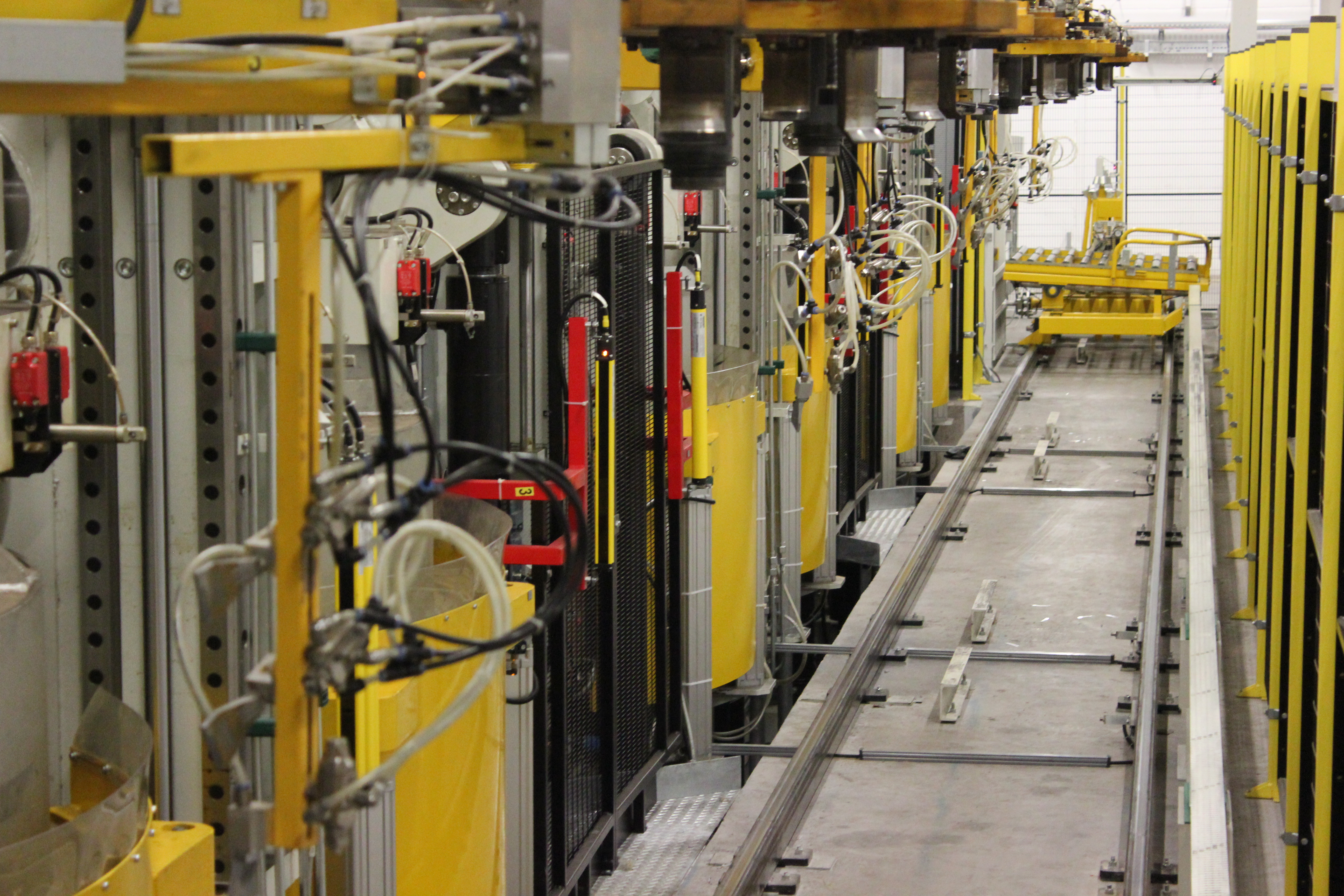 The best tyre retreading plant in the world?
With recent upgrades complete, Michelin gave Tyres & Accessories a tour of its fully-automated Remix retread remanufacturing plant in Stoke-on-Trent.
Foot for foot, Michelin's Campbell Road, Stoke-on-Trent Remix plant is one of the smallest in the Michelin group, but it is arguably also the amongst most modern and most flexible and most productive. Built at the height of Michelin's industrial activities in Stoke, the Remix site was originally a manufacturing plant for new truck tyres. In 1968 Remix capabilities were developed and in 2000, the French tyre maker's Encore process was added. Nowadays the Stoke location is Michelin's UK headquarters and is therefore home to hundreds of executive, sales, marketing and administration-based employees. Across the road from the offices, over 350 are directly involved in the manufacturing process. New tyre production left decades ago, but Stoke is still a bustling centre of market leading retreading activity.
Saying that Michelin's latest retreading upgrade is complete belies the extensive work that has taken place over the course of a highly intricate programme that had its genesis in 2007. What was an 80 per cent manual procedure is now fully automated. Back in 2007 the upgrade announcement came just over a year after Michelin released details of its innovative "Michelin Durable Technologies" generation of truck tyre know-how in 2005. The idea was that this retreading plant should be specced-up with these latest generation concepts in mind. Things like regenerative tread patterns (which Michelin bases on what it calls "teardrop" or "peardrop" sipes) are no-longer rare, with other manufacturers offering similar solutions. However, these were always going to present some real challenges when it comes to retreading and therefore an overhaul was called for.
A government-backed initial project in 2007 laid the foundation for £20 million of phased investment over the years that followed – and while most of the milestones have now been reached, there are still further phases available and Michelin will soon be claiming a significant amount from a government matched funding programme.
The most impressive thing about the project is that it all took place while maintaining 55 per cent capacity output, despite the "live" plant and the project occupying the same space. It was also developing on a number levels – literally. Due to the fact it was an automatization project, extensive conveyancing needed to be constructed and installed to feed the new workflow and this required extra headroom and therefore building work to create it.
RFID collars are now used to track the tyres throughout the remanufacturing process. On this note, some of the latest generation of RFID-equipped tyres, which made their real-life debut on London buses during the Olympics are being produced at Michelin's Ballymena truck tyre factory. It is clearly a medium term plan for most retreading orientated truck tyres to have RFID as soon as it is practical – perhaps even by 2018/2019. And these too provide their own retreading challenges. According to factory managers, the first one of these products to hit the Stoke Remix line, arrived in October 2013. The current state of affairs is that while the intergral RFID doesn't affect the process at all, for the time being it isn't being used in the retreading process either. Instead the same RFID collars used on non-RFID-equipped casings are used on these products and the two different RFID chips – the integral ones and the collared ones – operate on different frequencies in order to avoid confusion. However, it doesn't take a genius to guess that the group's ultimate goal is that at some point the two streams will seamlessly flow into one.
In addition to adding conveyer levels running above and around the respective inspection, buffing, repair and rebuilding stations, another "level" of operation comes in the form of a raised roof level and also an excavated floorspace in the curing hall. This was necessary because the curing presses required by Michelin's Durable Technologies need to put far greater pressures on post-build "green" hot-cure retreads than conventional technology. As a result they need to be significantly more robust and therefore much heavier and taller. Almost double the size of their conventional counterparts, the most modern presses, which were constructed to strict Michelin specifications by well-known curing manufacturing equipment maker, Harburg Freudenberger and weigh in at 30 tonnes, requiring seven metres of height clearance.  The moulds alone now weigh five tonnes, while by comparison conventional moulds weigh just three.
And it was this height clearance that caused one of the biggest logistical challenges the project faced. As well as having a higher roof, the technical requirements demanded that they excavate three metres down as well. The problem was that in this particular part of Stoke the water course is unusually high, meaning construction engineers had to build thick concrete foundations connected to inner walls that rise above the water course. The end result – not that it is visible – is something like a concrete boat structure set into the earth. It is not the largest curing hall in the world, but these details made it really quite complex and put pressure on the intricate timings of other parts of the project. Either way, it was then possible to install the high-technology presses that allow the company to offer their high technology retreads.
Given the challenge of running the project alongside virtually uninterrupted retread production, it is impressive that it was completed roughly in line with the expectations articulated to T&A in previous visits to the site over the years. Furthermore given the challenging and unexpected complexity involved, keeping to budget – give or take 3.5 per cent – is also quite a feat.
New plant manager
As the latest phase in Campbell Road development draws to a close, a new plant manager has moved over to Stoke from Ballymena where he oversaw new truck tyre production. More familiar with first life products, Jonathan Wright says he is enjoying getting to grips with the new challenge of running a retreading operation and relocating to Stoke. During our tour, project manager Jethro Smith who has worked on the upgrade throughout, showed us around.
Now work is complete the plant has a theoretical capacity of 320,000 Remix tyres a year (Encore capacity is in addition to this figure). Currently it is running nearer the 200,000 units a year market, but the plant was designed prior to the financial crises that have taken place since 2007/2008 and the negative affect these had on truck tyre demand. Back then export demand was also much higher at something like 12 per cent of production. But this too, for much the same reasons, is no longer there. Now the company finds itself with a capacity capable of offering 110 per cent more than current levels. Managers see this ability to flex up as well as flex down as a real strength and also an opportunity – indeed there is a real willingness to "flex up" and show what the plant can do.
With regard to the claims of the Campbell Road operation being the best in the world, this is hard to be concrete about. And the people at Continental's brand new Hannover-Stoecken ContiLifeCycle retreading plant will probably have something to say about it too. However as shiny and new as that factory undoubtedly is, at 180,000 units per annum as of June 2014, Stoecken simply isn't operating at the same scale as Michelin in Stoke (current output 200,000 units a year, capacity 320,000 units). Therefore from a subjective point of view at least, it definitely seems to be near the top of a very short list of locations that can make such a claim.