Sumitomo marks 10 years of Thailand production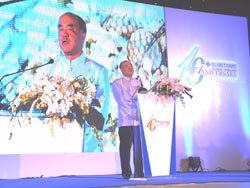 On 5 October, Sumitomo Rubber (Thailand) Co., Ltd. (SRT), the Sumitomo Rubber Group's tyre manufacturing and sales subsidiary in Thailand, celebrated the tenth anniversary of operations at its passenger car and agricultural/industrial tyre plant in Rayong Province. The festivities were attended by around 300 guests, including the Governor of Rayong Province, representatives from various government agencies, business partners, customers and factory staff, as well as Ikuji Ikeda, president of Sumitomo Rubber Industries, Ltd (SRI).
During the banquet, president Ikeda stated: "Having begun operations as one of our global tyre supply bases ten years ago, SRT has since grown into one of the largest factories in the Sumitomo Rubber Group in terms of overall production capacity and productivity. It is my sincere hope that SRT will continue to live up to the great trust that has been placed in it by its many stakeholders, to apply its steadfast efforts toward the achievement of further growth and to play a role in the mutual development of both Thailand and Japan
Toru Nagahata, president of SRT, added: "Since it began operations ten years ago, SRT has achieved steady growth in terms of its production capacity. In the future, I hope to build a factory operations system befitting one of the world's great tire factories-not only in terms of production scale, but also when it comes to safety, quality and cost-while continuing to contribute to the economic development of Thailand. Let us consider this tenth anniversary a turning point as we prepare to redouble our efforts toward the next ten years of growth."
Passenger car tyre production commenced in late 2006, and SRT established and began production at the Sumitomo Rubber Group's first overseas factory dedicated to agricultural tyre production in April 2014. SRT now boasts the highest production capacity of any Sumitomo Rubber Group factory. The subsidiary has supplied tyres to both the domestic Thai market and export markets since it began operations; it now supply more than 180 countries around the world.