Pimp my carriage – an intriguing challenge for AEZ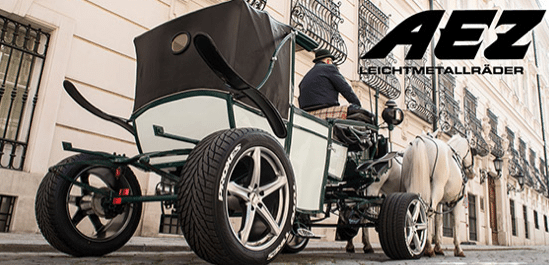 'Vienna is different!' Or so the The Austrian capital's well-known slogan tells us. This motto has just taken on a new meaning since AEZ Leichtmetallräder, manufacturer of premium alloy rims for the European car aftermarket, has implemented a very special project together with a tradition-steeped Viennese carriage company. Nomen est omen.
Johann Trampusch is a third-generation entrepreneur of horse-drawn carriages, and for years has been transporting everything from promotion tours to VIPs.
For his company's anniversary Trampusch thought of a very special project which involves equipping his 70-year old, elegant "Lederlandauer" carriage with alloy rims; something that nobody has ever tried before.
Johann Trampusch's call was initially viewed with suspicion by technical development staff at AEZ Leichtmetallräder GmbH, thinking they were listening to a prank call by a radio station for the early-morning amusement of millions of listeners. A few cups of coffee later, during which the general feasibility was discussed, the conversation picked up speed and the project started taking shape. It soon became a real challenge for AEZ designers and technicians
"By the time we had our third round of coffee it was clear that we would accept this extraordinary assignment. Our product development division immediately drafted technical feasibility plans while marketing began their preparations. This challenge also helped everybody involved to break away from daily routines," says Norbert Frohner, managing director of Alcar Leichtmetallräder GmbH.
"First off, we measured all axles and wheel hubs. It soon became clear that we were dealing with many small details that needed to be drawn up accurate to the millimetre before they were handed over to the mould maker. The hotrod began to take shape. The AEZ Yacht SUV was the rim of choice in 22-inch for the rear axle and 20-inch for the front axle, because the horse-drawn carriage rides on a 'staggered fitment' as part of its "Original Equipment". The first prototype was almost a perfect fit. With some small adaptations here and there the hotrod carriage started rolling through Vienna."
And what did carriage legend Johann Trampusch think about the performance and ride of his newly-shod 2hp vehicle? "The cornering is much better," he replied