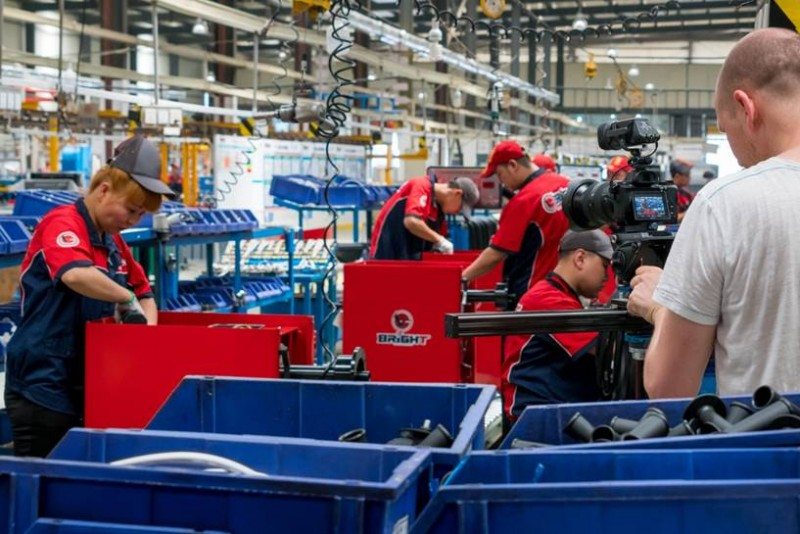 Bright recently invited films crews into its factory as part of its policy of openness
It is no secret that China continues to play its role in the development of the European tyre market. Chinese equipment firm Bright Technology hopes to take this a step further at Automechanika 2016 in Frankfurt, Germany when the company unveils its new double-decker concept booth which will display a "revealing" digital photographic/video tour of the company's production and design facilities.
This new level of business openness is said to offer "a real insight around the factory in China with presentations on production, assembly, testing, service, quality and management giving visitors a really ground-breaking view behind the scenes at Bright as if they were actually in the factory".
Bright reports that its film crew recently returned from China and are now in the process of editing their first material which is "looking awesome", said Ralph Dubbeldam of Technomarketing.com who initiated the project as Bright's global marketing and branding partner: "Up till now the focus has always centred around promoting Bright as 'your' manufacturing partner but since our involvement the emphasis has shifted towards brand recognition and ongoing building of brand power.
"Now we have gone to the  next level and decided it is time to show the world just how prepared and ready Bright is to move into the future in terms of manufacturing technology and quality of personnel. In Frankfurt we can guarantee you will see a 'totally unique and breathtaking presentation from one of the world's largest capital equipment manufacturers."
When it comes to product innovations there are a number of innovative developments from Bright that will be making their debut at the show and Joao Kwakernaat, Product specialist at Bright Europe says, "We will be demonstrating our new Mobile Service Van concept which has been specifically produced to suit the present day needs of customers and incorporates a brand new type of tyre changer and balancer exclusively for mobile tyre service vehicles. The van will take centre-stage on the expansive booth and display a selection of other innovative Bright Premium equipment."
Mobile tyre equipment coming to Europe
In line with the growing international trend in mobile tyre services fuelled by an increasing number of drivers buying their tyres online then having them fitted either at home or at work, Bright is already equipping tyre service vans in China with its range of products and the display throughout the show will be taking this concept into Europe for the very first time.
Also being introduced will be five new products within the Bright Premium range including the CB78 wheel balancer with LCD touchscreen, powerbrake, wheel weight laser position pointer and easy to use balancing program. Whilst the compact CB63 wheel balancer is specially for motorcycles plus the CB46 wheel balancer is exclusively for trucks wheels and comes complete with an in-built lift.
In addition the LC 889NS tyre changer is stronger and more precise. It comes equipped with a new heavy duty assist arm and Gaither Bead Bazooka. Plus the LC 886N tyre changer is a more simplified version that is specially built for run-flats or low profile tyres.
Bright Technology Co Limited was formed in 1988 and over the past 28 years has evolved into a specialist in the production of car and truck tyre changers through a policy of quality, strict management, powerful production capabilities and flexibility backed by a high standard of marketing strategy. The company is based in Yingkou within the Liaoning province of China.
Bright produces all kinds of tyre changers including swing-arm and tilt-back arm lever-less systems along with every type of wheel balancer for cars and trucks. Current annual manufacturing capacity is 70,000 machines, which are exported all over the world. The company currently employs 498 people and at the Yingkou base there are three production areas – a head assembly department, new product testing and development centre plus an experience centre which totals 38,000 square metres.
Category: International News, Product News