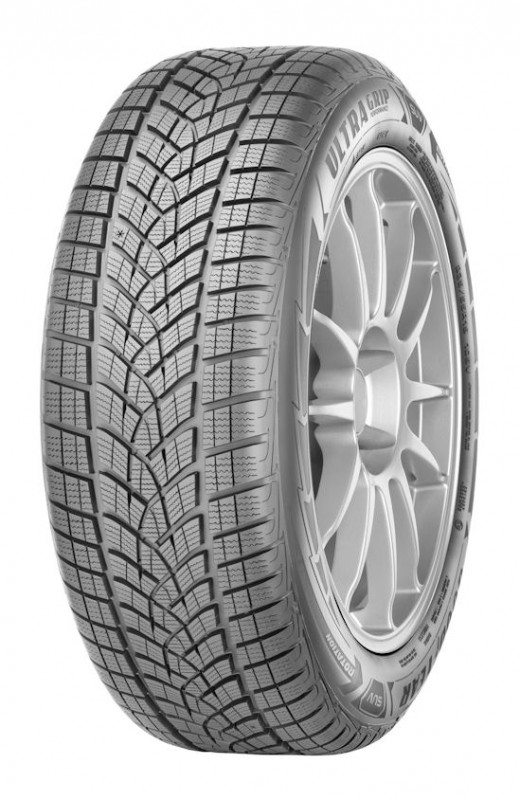 Goodyear UltraGrip Performance SUV Gen-1
The 'Gen-1' version of Goodyear's UltraGrip Performance winter passenger car tyre was launched in time for the previous winter, and this year the range has been extended with the addition of an SUV version. The first three UltraGrip Performance SUV Gen-1 sizes were introduced in May and the range is now available in 16 dimensions (including seven new SKUs), a size portfolio said to cover more than 40 per cent of the SUV car parc.
"SUV drivers often feel safer in their bigger vehicle, particularly when equipped with four-wheel drive, hence tending to think they do not need winter tyres," wrote Goodyear upon launching the UltraGrip Performance SUV Gen-1. "However, it is even more important for these vehicles to be equipped with appropriate tyres in winter conditions." What Goodyear means is that SUV and 4×4 drivers often derive a feeling of confidence from the size of their vehicle, however this reassuring bulk possesses a greater weight and higher centre of gravity than that of a car, and as a result stronger forces are exerted on the tyres, making braking and handling more challenging. Yet with the UltraGrip Performance SUV Gen-1, Goodyear claims to have solved this incongruity between perceived and actual safety.
"With SUVs, we were facing a real paradox," shares Alexis Bortoluzzi, Goodyear's marketing director for consumer tyres in the EMEA region. "So we leveraged both our experience in SUV tyres and our top-notch winter tyre technologies and we enhanced our award-winning UltraGrip Performance line for SUVs. Thanks to its modified design, the UltraGrip Performance SUV Gen-1 delivers enhanced grip (compared to predecessor tyre, the Goodyear UltraGrip +SUV) and therefore safer driving on wintery roads."
Goodyear lists the main technologies and features of the UltraGrip Performance SUV Gen-1 as being its interlocking sipes and tread design, SUV-optimised sipe and block arrangements, optimal road contact patch, and tread optimal performance indicator.
Interlocking sipes and tread design: In order to balance a vehicle's higher load (or weight), the tyre needs to be more rigid. A stiffer tyre block enhances handling on dry roads, however sipe design dictates that blocks must remain flexible in order to enhance grip on snow. To give blocks both stiffness and flexibility, Goodyear has deployed its 3D BIS (Block Interlocking System), and with this technology promises a better balance between dry handling and snow performance.
SUV-optimised sipe and block arrangements: When Goodyear speaks of optimise block arrangements, it means the blocks are now angled instead of being totally straight. This improves grip on snow, helping both braking and traction.
Optimal road contact patch: A heavier vehicle means a higher load upon a tyre. In order to work against these greater forces, the tyre width, or footprint, has been increased compared to that of the previous-generation tyre. Having more rubber on the road means more surface contact, which improves stability. Goodyear calls the technology behind this optimised contact patch ActiveGrip.
Tread optimal performance indicator: During the working life of the UltraGrip Performance SUV Gen-1, the snowflake symbol on its sidewall gradually disappears. Goodyear recommends replacing the tyre once this symbol, or TOP Indicator, can no longer be seen.
45 years of Goodyear winter tyres
Goodyear launched its first UltraGrip tyre in 1971, and the tyre maker says its engineers have worked to continuously improve the range ever since. The company reports having sold more than 60 million UltraGrip tyres over four and a half decades, including growing numbers of SUV tyres in the last few years. "With the launch of this UltraGrip Performance SUV Gen-1, we can anticipate we will be able to fulfil this growing demand."
The manufacturer notes with pride that The UltraGrip family has been "lauded over and over in tests conducted by renowned automotive and test magazines and independently-run tests." The Goodyear UltraGrip Performance SUV Gen-1 follows in this tradition, having outclassed the average of three competitors in a size 235/65 R17 evaluation that TÜV SÜD Product Service GmbH performed for the tyre maker in February and March. Goodyear shares that the test results demonstrated wet braking distance to be 1.9 metres (seven per cent) shorter than the three competitors' average, while dry braking distance was 2.3 metres (five per cent) shorter. The Goodyear tyre fared better than the average on ice and snow too, respectively recording four per cent and two per cent superior braking performance.
Category: Product News