Michael Dunlop smashes Isle of Man TT Mountain Course records on Dunlop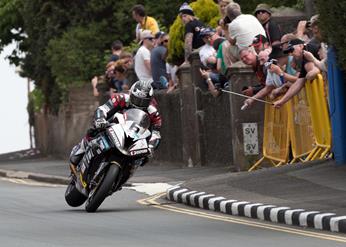 Dunlop tyres helped Michael Dunlop to a sub-17 minute lap around the iconic 37.73 mile Isle of Man TT Mountain Course, twice shattering the existing lap record, which was held by 23-time TT winner John McGuinness.  The Hawk Racing BMW rider averaged 133mph on the opening two laps of the six lap race, achieving the tyre supplier's objective of creating the 133mph Club on day one.
The opening race of TT race week, the RST Superbike race, saw Michael Dunlop demonstrate the performance of the Dunlop race tyre with a 133.369mph lap from a standing start. His next lap was even faster, a time of 16:58.25, and a 133.393mph average speed establishing the absolute record as he recorded his 12th TT win.
Starting the race from the #1 spot, John McGuinness finished third aboard his Honda Racing Fireblade, to secure a record-breaking 45th TT podium. Just outside the podium places was Kawasaki rider Peter Hickman, the fastest ever newcomer around the TT course, who finished a career-best fourth, with a 132.465mph lap.
David Johnson on the British-built Norton recorded a 130.872mph lap on his way to seventh. While Bruce Anstey took the Padgett's Motorcycle Honda RCV213S to eighth place, and record his first 130mph lap, on the MotoGP replica. Daniel Hegarty took the TT Privateer's win with 13th overall, on his Kawasaki. And Lee Johnston rounded out the top ten on a BMW.
Racing at the TT plays an important role in developing tyres for the road. Featuring open competition between tyre manufacturers, the TT further enhances Dunlop's relentless drive to innovate and develop new technologies to heighten product performance.
As a result of the company's impressive record at the most famous road race in the world, Dunlop tyres have now led the way in claiming the speed records over the past few years with John McGuinness the first to lap in 127, 128, 129, 130, and 131mph, Bruce Anstey topping 132mph for the first time in 2014 and now Michael Dunlop's first 133mph lap.