Foxwood Diesel apprentice is runner-up in national competition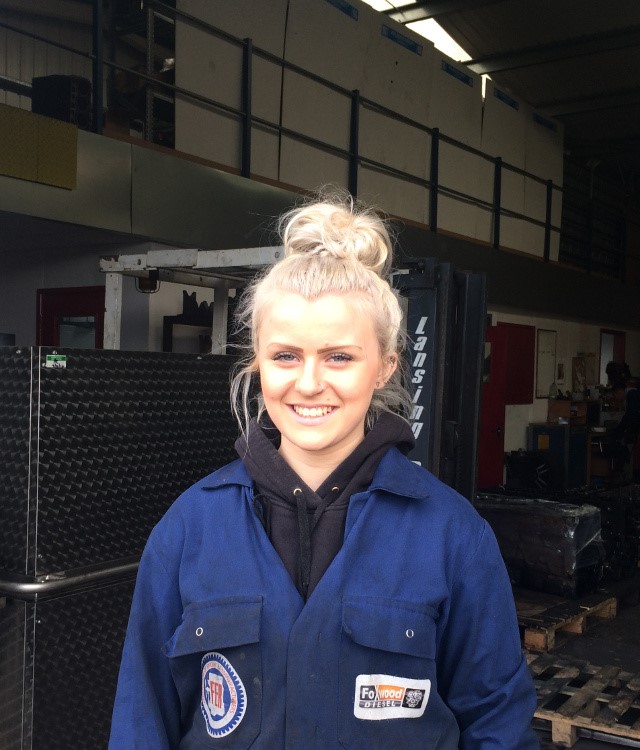 A Foxwood Diesel apprentice has beaten more than 13,000 hopefuls to be named one of the top engineering and construction apprentices in the country.
Casey Allen (17), who is about to complete level 2 of her apprenticeship and start level 3 at Foxwood Diesel in Old Whittington, was put forward for the award by her apprentice training provider, NLT Training Services, based in Brimington.
The Foxwood apprentice won runner up in the 'England Apprentice of the Year' award of the prestigious Group Training Association (GTA), narrowly missing out to the top spot by a level 4 engineering apprentice.
Held at the Institute of Mechanical Engineers (IMechE) in Westminster, London, the award was presented by Nick Boles, Minister of State jointly for the Department for Business, Innovation and Skills, and the Department for Education.
Nick Boles said: "Apprenticeships play a vital role in building a modern, highly-skilled workforce. This is why we are working with organisations like GTA England and its members to deliver 3 million apprentices by 2020."
Allen added: "I've only been in the industry for about 18 months so to get this award is brilliant. I didn't expect to be shortlisted let alone the runner up.
"Foxwood is a great company to work for. They're really supporting me. What I'm doing with my employer, combined with the training and qualifications I'm getting at NLT, will give me skills for life."
Nicknamed the 'Turbo Queen' because of her love of stripping down and reconstructing diesel engines, Allen is the only female on the Foxwood shop floor and began working at the company at the age of 15 on school work experience.
Ken Worsdale, Foxwood Diesel owner, said: "We're all very proud of Casey. She did very well to be up against people who are five years into their apprenticeship. She is an asset to Foxwood Diesel. She's only been here for just over a year but every day she impresses us with her self-motivation and effort she puts into the job."