Semperit Runner D2 wins Red Dot Design Award for Outstanding Construction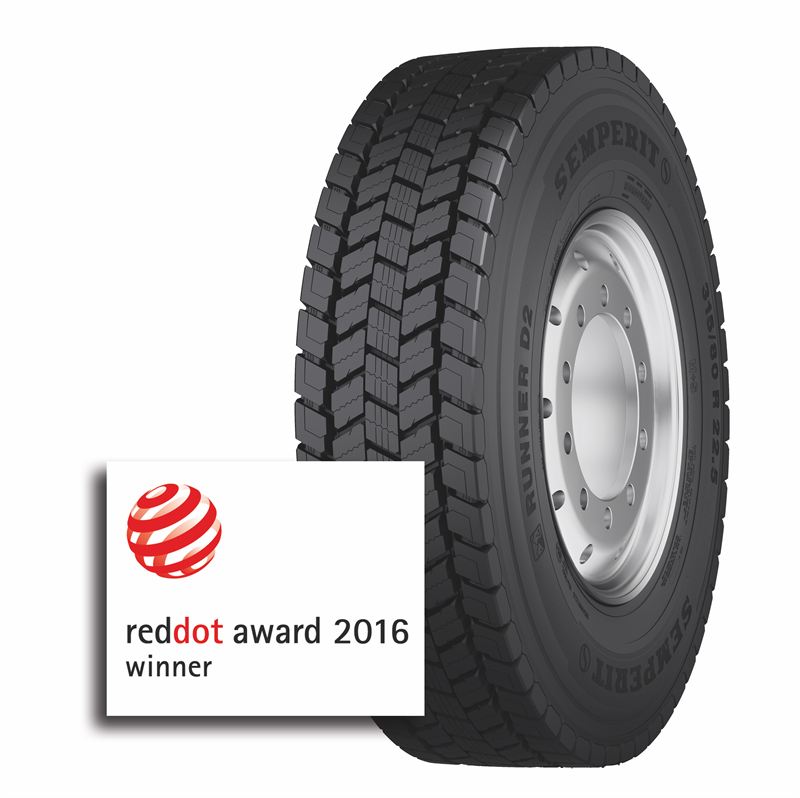 The Red Dot Design Award has been presented to the Semperit Runner D2 drive tyre in size 315/80 R22.5. An international jury deemed the technical quality of the tyre, including an improved tread and compact pattern, worthy of the accolade. The Runner D2 offers high mileage and low fuel consumption, Semperit states.
Launched last summer in a wave of new Semperit products, the Runner D2 drive axle tyre was able to hold its own in the product design category in a field of around 17,000 submitted entries. "The award from the international jury of design experts is recognition for the tyre's outstanding construction and high level of design quality," said Daniel Gainza, marketing director truck tyres EMEA at Continental Reifen Deutschland, whose product portfolio also includes the Semperit brand.
"Our thanks go to our tyre designers, who time and time  again have mastered the art of demonstrating the technical quality of the Runner tyres in a Semperit-specific design. The Red Dot Design Award is also an acknowledgment of our determination to bring the successful history and rich tradition of the Semperit brand into the future, with the help of the modern Runner family and an emerging tyre portfolio, despite the high price pressure on the commercial vehicle tyre market."
The Runner D2 was designed for use in both regional and long-distance transportation. Judges were impressed with its improved tread and compact pattern ("Void Optimised Pattern") that results in high mileage and optimal fuel efficiency. Thanks to a newly developed rubber compound, the drive axle tyre offers significant potential for savings in fuel consumption. The reinforced bead in the tyre carcass provides excellent resistance to variable bearing loads. Like all the other tyres in the Semperit Runner family, the D2 is also based on a retreadable carcass.