Dunlop's 'evolving technologies' helping BTCC deliever exciting racing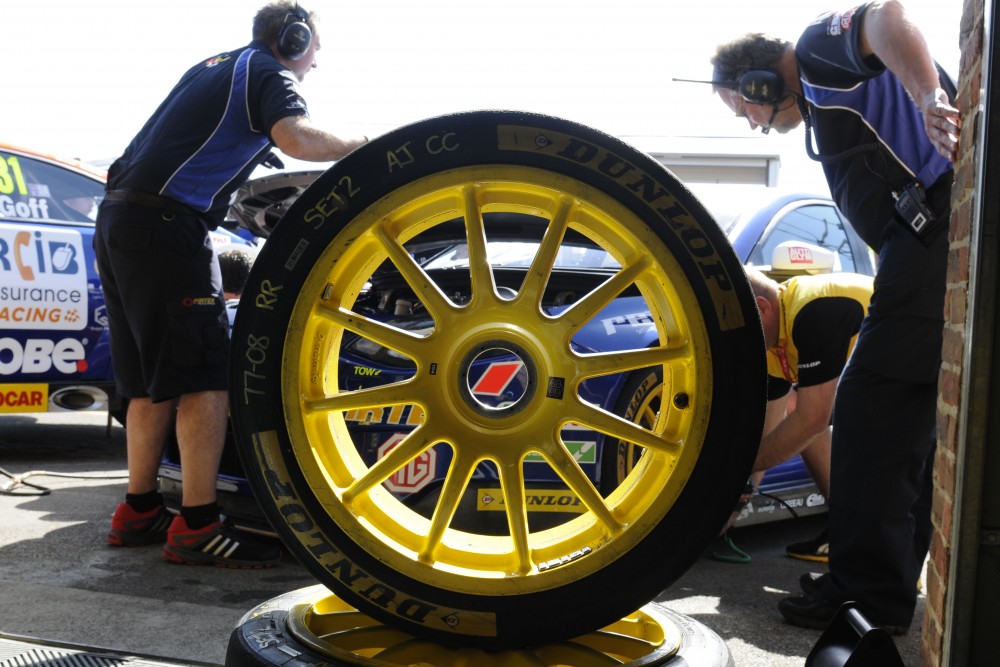 Dunlop's 2016 MSA British Touring Car Championship (BTCC) tyre range has been developed to meet the championship's two major requirements. First, the two specifications of dry tyre in soft and medium compounds need to handle nine different tracks (as well as an additional hard compound for Thruxton's abrasive surface). And secondly, they need to handle the wide variety of temperatures across its ten rounds.
2015 saw a low of just four degrees centigrade on track at Brands Hatch in early April, with the same tyres coping with 30 degree heat in testing at Snetterton. Dunlop's three slick BTCC tyres must be capable of working at the extremes – working hard at both four degrees and 30 degrees.
Managing with those performance barriers, Dunlop engineers work closely with the team engineers to achieve their optimum set-up for each weekend. This can take the form of adjusting tyre pressures to cope with the different track demands and temperatures, or changing the camber and caster set-up to increase or decrease the contact patch. The hotter the track, the higher the grip so it's a fine balancing act between reducing the traction without compromising tyre wear.
Endurance experience
Dunlop's experience in different motorsport championships includes Le Mans 24 Hour, which the tyre brand states brings a similar challenge to BTCC. Ten years ago, tyres were just beginning to be used for more than one stint, or the time between fuel stops, which usually amounted to around 45 minutes. Therefore extreme changes in conditions were rare. However in 2015, all three slick compounds on Dunlop's LMP2 range "quadruple stinted", or handled four race segments. This amounts to around three hours for each tyre, during which temperatures can drop or rise significantly as the driver's time in the car encompasses the day into night period or the rise in temperatures from dawn.
2016 sees new relationships for Dunlop in the Le Mans LMP1 and LM GTPro classes where bespoke tyres can be developed for partners. Dunlop states that it will work closely with Rebellion, CLM and Aston Martin to make advances in technology that improve performance. Dunlop will also continue with development on the ranges that must suit a cross-section of manufacturers, such as LMP2 and LM GTE in the European Le Mans Series where Ligiers battle with rivals such as Orecas and Gibsons, and Aston Martins compete against the likes of Ferrari and Porsche.
From race to road and vice versa
While race-to-road technological transfer is a familiar reason for tyre manufacturers to participate in motorsport, Dunlop argues that elements of road tyre design can also inform the production of its track tyres. Road tyres require the ability to perform across a wide range of temperatures for example. Dunlop's Sport Maxx RT2 includes what the manufacturer describes as "a motorsport-derived evolutive tread compound designed to cope with differing temperatures". The tyre compound is mixed using the same resins and polymers that are used in the production of BTCC tyres with one of the main components being a new adhesive traction resin which is derived from pine trees. This new component assists the tyre to deliver high levels of grip, excellent braking and acceleration performance.
Michael Butler, Dunlop UK Motorsport Manager said: "We learn every season and continue developing tyres to make racing more exciting by giving teams tyres that can perform well and push boundaries. The technologies that we have evolved mean that we have created tyres that will provide drivers with the grip and cornering that they need whether it's really cold or topping the thermometer. It's great to know our work doesn't just help drivers on the track – that the same technology is benefitting road users too."