Edinburgh Award for Kwik Fit founder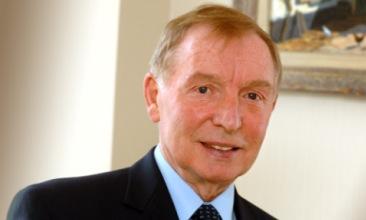 Sir Tom Farmer, founder of the Kwik Fit automotive services network, has been named as the ninth person to receive the prestigious Edinburgh Award. The entrepreneur and philanthropist was selected to receive the accolade from a shortlist of nominations cast by the Edinburgh public. He will receive an engraved Loving Cup from the city's Lord Provost at a ceremony within the City Chambers early next year.
The Leith-born 75 year-old began his career at 15 at a local tyre firm before founding Kwik Fit in 1971. He is the current major shareholder of Hibernian Football Club and is Chancellor of Queen Margaret University. The City of Edinburgh Council says Sir Tom's receipt of the Edinburgh Award will go some way towards recognising his generous philanthropic contribution to the city. His handprints will be immortalised on a flagstone in the City Chambers quadrangle alongside those of previous recipients Ian Rankin, JK Rowling, George Kerr, Sir Chris Hoy, Professor Peter Higgs, Elizabeth Blackadder, Professor Richard Demarco and Tom Gilzean.
"Sir Tom is not only an inspiring businessman but a champion of education, a keen philanthropist and a real believer in community spirit. Most importantly for this award, he is a passionate ambassador for Scotland's great capital city," said Edinburgh's Lord Provost, Donald Wilson. "Sir Tom kindly donated a nativity scene to the city 12 years ago which, this Christmas, can be found nestled in St Andrew Square. He has constantly given back to this city and has made a significant difference to countless charities from the Salvation Army to Mary's Meals, which provides school meals for children in deprived areas around the world.
"It is a delight to announce Sir Tom as the ninth person to be presented with the Edinburgh Award. He really has made an outstanding contribution to the Capital, and this award is the city's way of recognising all that he has achieved."
Sir Tom Farmer added: "It is a great honour for me to receive the Edinburgh Award. Edinburgh is the city of my birth and I am overwhelmed that I have been chosen to receive this prestigious recognition.
"I wish to thank those who nominated me and the judging panel. I must also thank my wife Anne and my family and friends who have supported and encouraged me all throughout my life."
Farmer sold the 1,900 outlet-strong Kwik Fit network to the Ford Motor Company for just over £1 billion in 1999. Current owner Itochu Corporation purchased the Kwik Fit Group from PAI Partners for a more modest £637 million in 2011.