Top students get Michelin French experience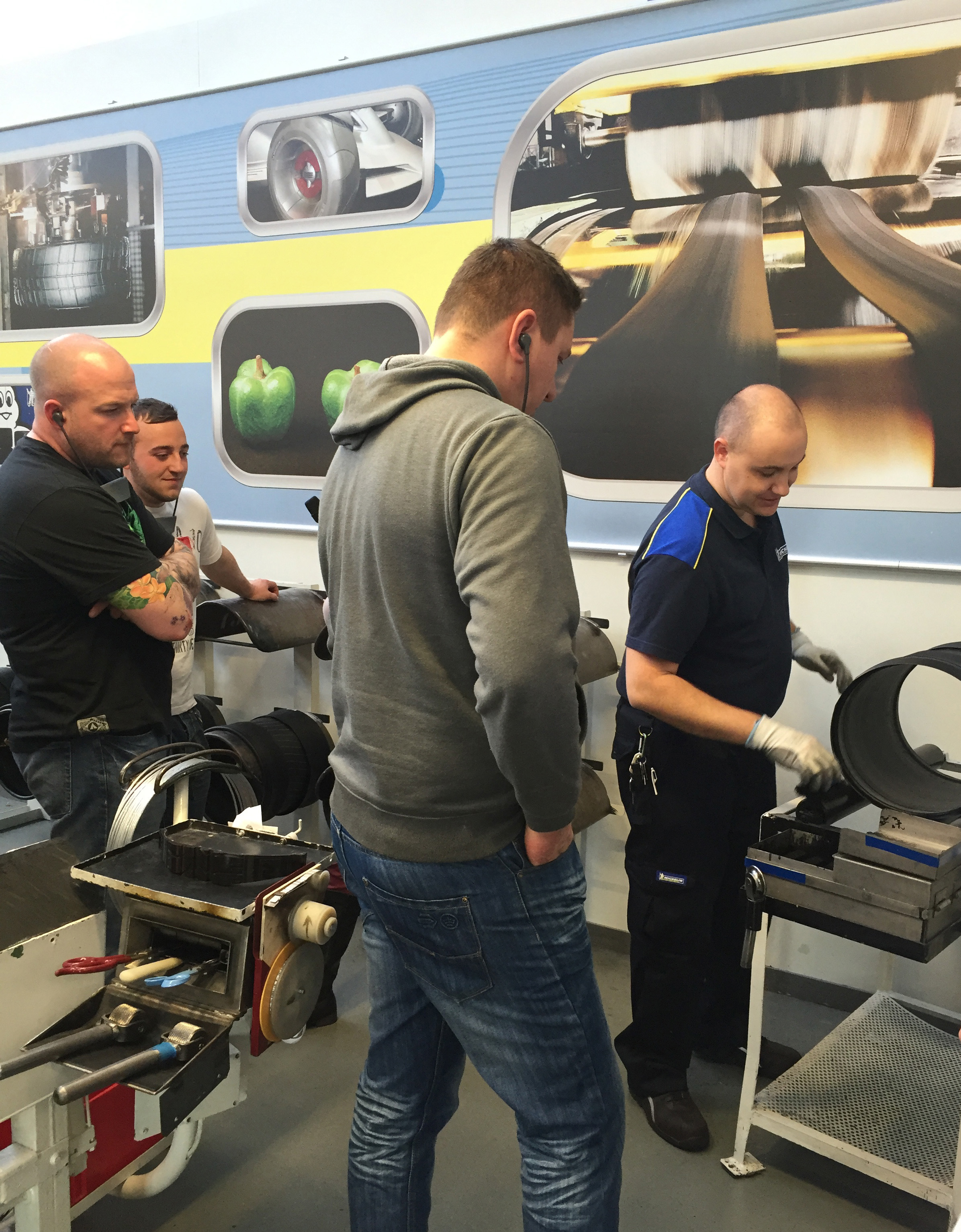 Representatives from Michelin Certified Centres across the UK have further refined their customer service and management skills on a Michelin Auto Professional 'Advanced Tyre Academy' training course in France.
The four-strong group was selected for the second stage of the Tyre Academy programme to represent dealerships that completed the previous course curriculum, which featured classroom and workshop-based training at Michelin's dedicated training centre in Stoke-on-Trent. This year's four delegates, who all graduated from the first Tyre Academy, were identified as ideal students for the second course by their respective dealerships.
After flying into Michelin's Clermont-Ferrand headquarters, the trip began with a visit to the company's motorsport showroom and a tour of the Cataroux tyre factory.
Later, the Advanced Tyre Academy students received training in leadership, sales and performance management techniques, including how to correctly implement in-house education plans and performance reviews for dealership staff, and the importance of effective communication.
The stringent requirements of the Michelin Certified Centre programme's audit process also formed a key aspect of the course curriculum – a process every member of staff must adhere to in order for a dealership to gain and retain the coveted accolade.
The group also visited L'Aventure Michelin – the company's purpose-built museum complex, before the graduates topped the course off with a Michelin rally driving experience to reward them for their diligence.
Andrew Cummins of Northern Ireland's A One Tyres says: "It's great to have a big company like Michelin at your side, pushing you to constantly improve and refine your knowledge and customer service skills. The first Tyre Academy gave me a good grounding in all-things-Michelin, so I was keen to continue the course this year."
He adds: "The Advanced Tyre Academy course helped me really understand how Michelin's tyres are developed and manufactured. It allowed me to get under the groove and discover how the raw materials are transformed into premium tyres.
"The course also covered staff management techniques and sales training – it ticked all the boxes for the day-to-day business of running a tyre dealership, and has boosted my confidence in both the workshop and when I'm dealing with customers."
Michael Jones, who works at the Lampeter branch of Wales' Huw Lewis Tyres, says: "I feel I've vastly improved my customer service skills thanks to the course – I can clearly explain why buying Michelin is always a wiser investment than budget tyres, and how Michelin fitments offer superior longevity, durability and safety."
"It's clear that being a part of the Michelin Certified Centre programme pays dividends – not only do you get to go on training courses like the Advanced Tyre Academy, but you get access to both the company's industry knowledge and business development funding, all of which helps the dealership grow and prosper," adds Jones. "Of course, being invited to slide around a rally course at speed is something of a bonus."
As well as Northern Ireland's Cummins and Wales' Jones, Nick Pierce of Crewe Tyre & Exhaust in England and Irmantas Norvilas of Discount Tyres in the Republic of Ireland attended the event.