AirCell project lands Mitas an AGCO supplier award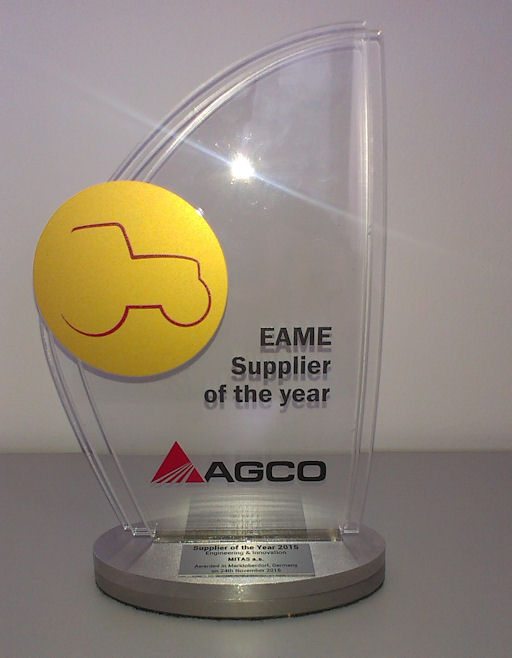 Honours went Mitas' way at the AGCO EAME (Europe, Africa and Middle East) supplier day late last month, with the company on the receiving end of a Supplier of the Year 2015 award. The agricultural machinery manufacturer awarded Mitas in the Engineering & Innovation category for its work on the AirCell tyre, which forms a key part of the Fendt VarioGrip Pro system. The accolade was presented to Mitas representatives at a ceremony held in Marktoberdorf, Germany.
"Mitas' close collaboration with AGCO is long-lasting, and our relations are outstanding. In particular, the cooperation with Fendt on the AirCell project, which is part of the VarioGrip Pro, was highly intensive and successful," said Mitas key account manager Jens Steinhardt. "This is the third award for the AirCell project, having already received the Agritechnica Gold Medal and the Machine of the Year 2016 prizes."
During the event, Dr Heribert Reiter, AGCO´s vice-president engineering tractors global, highlighted the successful cooperation between Fendt and Mitas, particularly on the design of the VarioGrip Pro System and the development of AirCell. The idea for an inner tyre was originally patented in 1962 and other major manufacturers have attempted, without success, to develop working solutions. Mitas started working with Fendt to overcome the design challenges and develop AirCell seven years ago.
AirCell works in tandem with the VarioGrip Pro pressure regulation system and enables the inflation of large agricultural tyres to change between 0.8 bar and 1.8 bar in the space of half a minute.
Another tyre industry AGCO awardee is new 'sister company' Trelleborg, which was named Supplier of the Year in the Logistics category.