Falken trialling low-noise tyre with car maker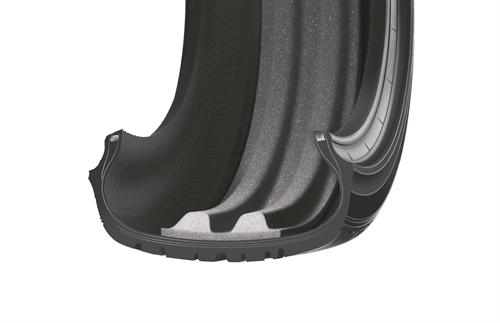 Several tyre manufacturers – including Continental, Pirelli and Goodyear – have already utilised foam as noise reduction solution, and now Falken Tyre has presented its own version – which it says can lower drive-by noise by up to ten decibels compared to standard tyres and cabin noise by four decibels. The solution was material developed together with parent company Sumitomo Rubber Industries (SRI) and consists of a double-humped layer of ether-polyurethane foam material. Falken calls it Silent Core.
According to Falken, testing carried out so far has shown Silent Core doesn't affect a tyre's performance and it lasts for the tyre's entire working life. The production process is said to be now mature enough for series production; the tyre maker reports that Silent Core is "undergoing a pilot phase with a well-known automotive manufacturer." Producers of other vehicle brands are also said to have "expressed keen interest" in the noise reduction solution.
"Silent Core is a very simple yet extremely effective solution to the reduction of drive-by and cabin noise created by the tyre," says Andreas Giese, product planning panager at Falken Tyre. "We've received a significant amount of interest from automotive manufacturers about this new technology, which is cheaper and easier to implement than electronic technologies. Initial reports from the pilot test are positive and we're looking forward to seeing the Silent Core technology progress."