Celsus DABmotion video explains DAB conversion to aftermarket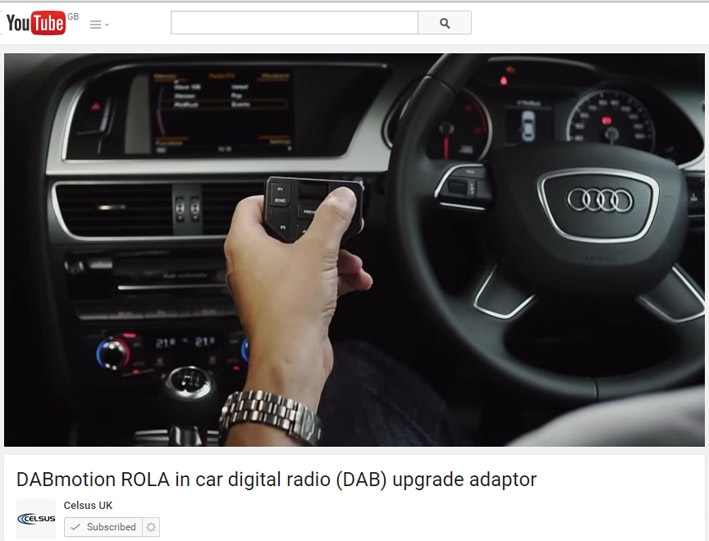 Celsus, distributors of the DABmotion range of digital radio solutions, has launched a new product marketing video extolling the virtues on in-car DAB. Nearly 70 per cent of new UK cars now have DAB fitted as standard, and Celsus wants to bring the advantages of DAB to the aftermarket with its DABmotion ROLA (DAB1002) conversion kit, which retails at around £130, including VAT.
The three minute video was developed by DABmotion with a leading London video agency to help motorists better understand the benefits of DAB radio and the ways to get it installed.
The flagship DABmotion ROLA universal DAB conversion kit upgrades motorists' existing car radios to digital by using wireless technology, combined with patented AFC auto-retune capability, to deliver interference-free listening on the move.
"The DABmotion video helps garages convey the benefits of car DAB conversion to their customers quickly and easily," said marketing director Mark Baker. "It's a marketing investment we've made to help drivers understand how simple it now is to access the wealth of DAB stations they enjoy at home in their cars."
Besides offering a Tick Mark approved conversion product, Celsus can also train and award the installer qualification needed for garages to advertise the Tick Mark as a 'Registered DAB Installer'.
DABmotion training covers fitting replacement DAB head units, DAB adaptors, antennae and fault-finding, with hints around antenna installation being particularly useful. Besides giving a route to Tick Mark approval, the training is backed with the promise that anyone completing it will be able to fit working DAB audio into any car.