Andrew Page hosts latest AutoInsider Live event at Sandown Park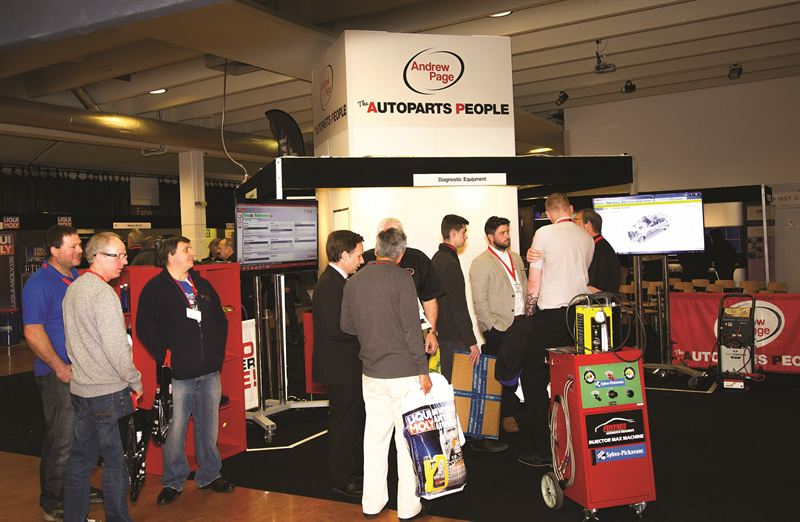 With interactive displays, competitions, giveaways, technical seminars and even the chance to win a Mini, garage technicians and apprentices from across the South enjoyed Andrew Page's latest AutoInsider Live show at Sandown Park on 14 May.
The series of regional aftermarket tradeshows kicked off for 2015 at Stoneleigh Park in March, with Sandown Park keeping up the momentum that is set to build with three more shows scheduled for 2015.
Building on the success of last year's launch events, the shows provide a unique mix of activities designed to help qualified and aspiring vehicle technicians stay up to date with the latest developments, in everything from component parts to diagnostics and training.
Covering Andrew Page branches in the South-East and London, the show included presentation and seminar areas, which hosted technical displays and tutorials throughout the day.
Demonstrations from Bosch, Unipart and LuK looked at low mass Common Rail Injection Systems, business efficiency with KiS online and dual mass fly wheel evolution respectively, while all exhibitors were on hand to take visitors through their latest product ranges and how they work. Among those exhibiting were Mintex, TRW, Carwood, Osram and Yuasa.
As well as having the chance to meet suppliers face to face and see what new products are available, all attendees from each event will be entered into a draw to win a Mini. Entry to the draw is completely free, with the winner announced at the final AutoInsider Live event of 2015, taking place in Doncaster this November.
"This was our second event of 2015, and with three more to come we are building momentum with each passing show," explained Annalize Davy, marketing manager at Andrew Page. "We had nearly 40 suppliers exhibiting at Sandown, a figure which is increasing each time, showing how AutoInsider Live is growing."
The next AutoInsider Live trade show will be an afternoon/evening event at the Metro Arena, Newcastle, on 18 June from 14:00 until 20:00. The 2015 schedule is completed by events at the Imperial War Museum, Duxford, 22 October and Doncaster Race Course, Yorkshire, on 26 November.