YTD new car registrations exceed 1 million in May – SMMT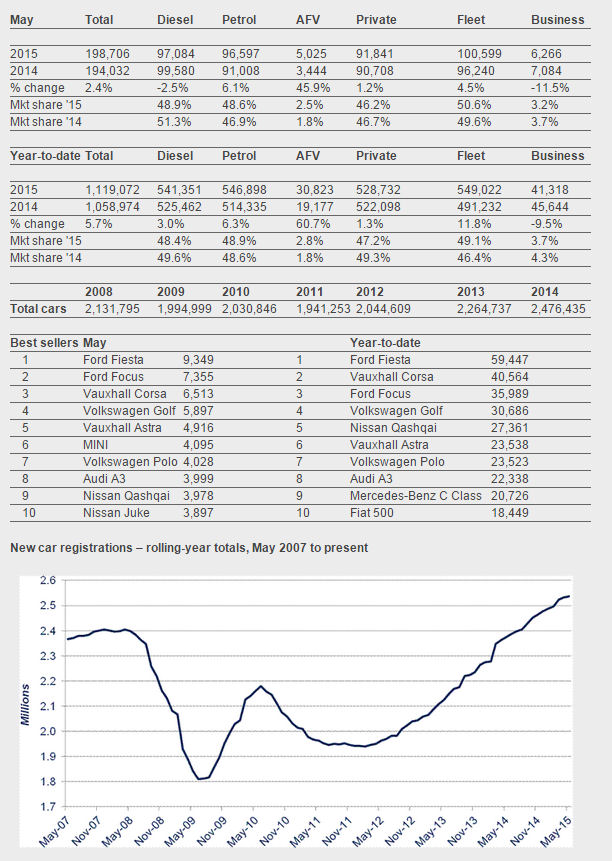 Figures released today by the Society of Motor Manufacturers and Traders (SMMT) show a steady 2.4 per cent growth in the UK new car market, accompanied by a strong surge in demand for ultra-low emission vehicles (ULEVs). A total of 11,842 ULEVs were registered between January and May – a four-fold rise on the 2,838 registrations during the same period last year. The SMMT views this growth as further evidence of UK car buyers' increasing awareness of the "significant benefits of driving a ULEV, as they look to reduce their running costs and environmental impact." Motorists can now choose from a range of around 20 ULEVs, compared to just six in 2011.
The rise in overall new car registrations, meanwhile, marks the 39th consecutive month of growth in the market. More than one million cars have been registered in 2015 – the SMMT says buyers are being drawn into showrooms by the current range of new products and the "attractive finance deals" currently available. With many purchases on a three-year replacement cycle, new cars bought as the recession ended are now being replaced, the SMMT adds.
"The remarkable growth in demand for plug-in vehicles is expected to continue as the range of ultra-low emission vehicles on sale increases," comments SMMT chief executive Mike Hawes. "Meanwhile, we anticipate a natural levelling out of the overall new car market throughout the remainder of 2015."