Sentury Tire makes 30 million euro Cimcorp order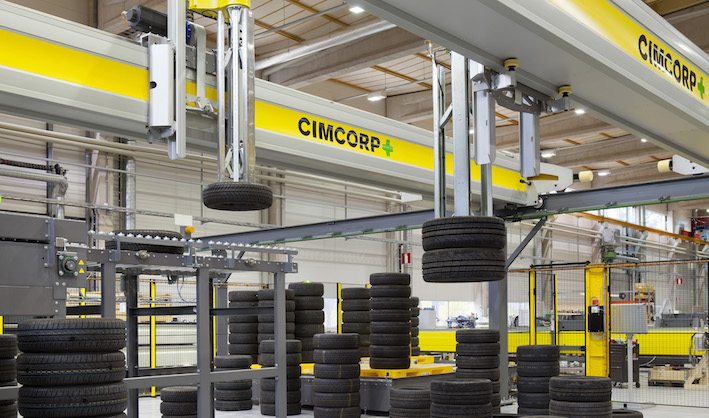 Cimcorp, which specialises in intralogistics automation reports that Qingdao Sentury Tire Co Ltd. has made the firm's biggest ever order. According to Cimcorp Sentury has ordered a turnkey material handling solution for its new factory in Thailand.
The 30 million euro order is for a fully automated handling system based on Cimcorp's Dream Factory solution and will cover the handling of passenger car radial green tyres from the tyre-building machines to the curing presses, as well as finished tyre sorting, palletizing, warehousing and shipping. The system will become operational in phased stages between 2015 and 2016.
Cimcorp's solution for the new plant – located about 100 miles outside of Bangkok – will feature six independent automation lines, each consisting of monorail systems for the unloading of the tyre-building machines and transfer of green tyres to the curing buffers; green tyre buffer storage; spotting stations; and monorail transfers for press delivery. In addition, Cimcorp's scope of supply includes finished tyre buffers and palletizing stations, rail guided vehicle (RGV) loops, stacker cranes in a high-bay warehouse and shipping buffers in the dispatch area. The material flow will be controlled by Cimcorp WCS (Warehouse Control Software), which will integrate the various technologies – robots, monorails, RGVs, stacker cranes and pallet conveyors – into one system.
Cimcorp recently supplied the automated handling systems for Sentury's Qingdao plant in China. Following the success of this project, Sentury is using the same Dream Factory concept for its new facility in Thailand.
Qin Long, president and CEO of Qingdao Sentury Tire commented: "We want to build a modern tyre plant with the latest automation technologies to ensure high product quality and high productivity from the beginning. Our experiences with the first project with Cimcorp," continued Mr Qin, "have convinced us that they are a competent and reliable partner for us for the Thailand project."
Kai Tuomisaari, Cimcorp's vice president of sales and projects, added: "Today's state-of-the-art tyre plants are efficient, well organized, dynamic and lean. This flexible efficiency can be achieved through modular automation and total control of the process flow. This is exactly what we will be supplying for Sentury's new factory in Thailand."
Established in 2009, Sentury manufactures and sells tyres under the brand names Landsail, Delinte and Sentury', with 13 ranges and more than 400 sizes. In addition to PCR tires, Sentury also manufactures aircraft tires. The company's global sales network extends to more than 150 countries across North America, South and Central America, Europe, Africa, Oceania and Asia.
Cimcorp Group – part of Murata Machinery, Ltd. (Muratec) – is a leading global supplier of turnkey automation for intralogistics, using advanced robotics and software technologies. With locations in Finland and Canada, the group has around 300 employees and has delivered over 2000 logistics automation solutions.