September launch for 3rd member of Goodyear's Ultra Grip Max tyre trio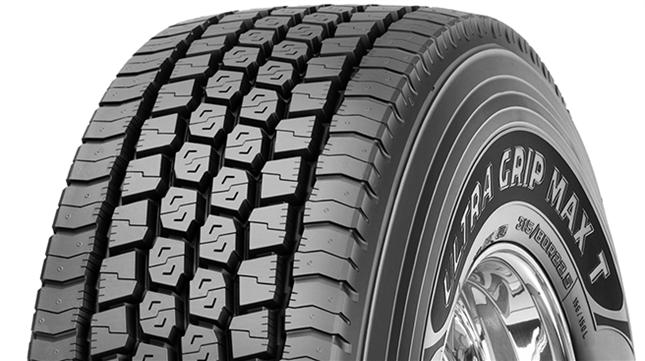 The Goodyear Ultra Grip Max winter truck tyre range will soon be completed with the introduction of the Ultra Grip Max T trailer tyre. The 3PMSF and M+S approved tyres will be available in sizes 385/55R22.5 and 385/65R22.5 from September 2015. The first two tyres in the Ultra Grip Max range, the S steer and D drive fitments, were recently released in sizes 315/70R22.5 and 315/80R22.5.
Upon announcing the launch of the steer and drive tyres in March, Goodyear shared the results of tests carried out at the Goodyear Innovation Center Luxembourg. Comparative tests conducted between October 2013 and July 2014 using size 315/80R22.5 tyres suggest that snow grip when using the Ultra Grip Max D is up to 40 per cent better than that of the Goodyear Ultra Grip WTD. And it was calculated that the Ultra Grip Max D potentially offers up to 15 per cent better mileage than the predecessor tyre.
The Ultra Grip Max range's launch saw the introduction of two new Goodyear technologies: IntelliMax Block Technology and IntelliMax Edge Technology. The tyre maker says these technologies help the new tyres deliver enhanced grip throughout their entire life. The first features longitudinal, diamond shape blocks with variable depth, contoured sipes, producing variant block strengths to maximise sipe opening for optimal snow and ice grip. The contoured sipes interlock for ideal tread stiffness, when the tyre rolls through its footprint, offering regular wear and a high mileage potential. IntelliMax Edge Technology features tapered, stepped groove angles forming a high number of "biting edges" for optimum tyre to road connectivity, especially on slippery surfaces.
"Mobility is a key factor for commercial vehicles, particularly during winter. In addition fleet operators want truck winter tyres that offer a high level of snow traction," commented Benjamin Willot, marketing director Commercial Tires at Goodyear Europe, Middle East and Africa. "Our new Ultra Grip Max range with the 3PMSF marking offers exactly what they expect from a truck winter tyre: high traction."
While all three Ultra Grip Max tyres are 3PMSF certified, Goodyear claims its testing in Luxembourg shows that the D drive tyre would even qualify for this winter marking when 50 per cent worn. The Ultra Grip Max S steer tyre is said to have 30 per cent more grip than the previous-generation Ultra Grip WTS, even when half worn. And it offers 23 per cent more traction when new than Goodyear's KMax S all-season tyre, and five per cent better snow traction (with the same mileage performance) than the Ultra Grip WTS.
Retread range also available
At the same time as it introduced the Ultra Grip Max, Goodyear brought the associated retread product to market. The Ultra Grip Max D is now available as a mould cure TreadMax retread and UniTac pre-cure tread. The TreadMax tyre is available in size 315/80R22.5 and is said to offer "similar levels of performance" to the new tyre. The tyre is exclusively retreaded using Goodyear Max casings at the manufacturer's own facilities in Wolverhampton, Riom (France) and Wittlich (Germany). The UniTac tread is also intended for 315/80R22.5 tyres. UniTac pre-cure products are available through Goodyear's PreCurePro partners in Europe, Middle East and Africa. The PreCurePro network is made up of 60 certified Goodyear Authorized Retreaders.