First Stop to the rescue for First Responder volunteers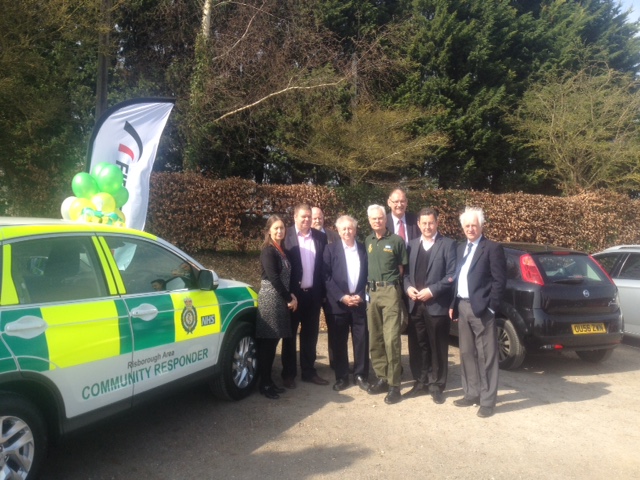 One of First Stop's most valued garages has gone the extra mile for the local community, courtesy of a new emergency 4×4 vehicle worth £30,000. Risboro Garage, based in Princes Risborough, Buckinghamshire has donated a Honda CRV 4×4 for the Risborough Community First Responders (CFR) team following months of fundraising.
The vehicle will used by the Risborough First Responder volunteers (R1Rs), who are trained by the South Central Ambulance Service (SCAS) to respond to emergencies before an ambulance can get to the scene.
At a launch ceremony recently, Mark Tubb, the chairman of the Rural Community Defibrillation Group (RCDG) thanked Risboro Garage directors Sean Graham and Tim Stevens for the gift, which aims to improve the effectiveness of the responder team.
The garage had raised the funds by donating £5 from every MOT and service and £1 for every 'like' on its Facebook page.
It has also worked closely with the Rural Community Defibrillator Project to help provide a number of defibrillators to the area, which provide vital cover between the Aylesbury and Wycombe areas.
Sean Graham said: "We're quite a long way from the nearest ambulance centres and as a local business, we wanted to do all we can to support the local R1Rs and add Defibrillators into the local community.
"The addition of the 4×4 vehicle will provide great access in all weathers and terrain and we're delighted to have played a part for a wonderful local charity, which carries out such a lot of good work."
If a person is having a heart attack and a defibrillator is nearby, someone can call the ambulance and the call handler will give them a code to open the nearest defibrillator cabinet. After switching the defibrillator on, it goes through a set of instructions and prompts to help save the person's life.
R1Rs team member Geoff Clark, who is one of eight volunteers, told how important the addition of a brand new emergency 4×4 vehicle is for the team and the community.
He said: "A 4×4 will gives us greater access in all weathers and terrain. But most importantly, it enables us to carry Entonox (gas and air), a vital pain relief which can only be carried in vehicles which are insured through, in this case, South Central Ambulance Service (SCAS)."
The next step in Risboro Garage's partnership with Rural Community Defibrillation Group is to install two more life-saving defibrillators at Princes Risborough Fire Station and Princes Risborough Police Station, each costing £1,500
First Stop retail business consultant Ollie Turpie said: "We really can't praise Sean and everyone at Risboro Garage enough for their hard work and generosity.
"We try to pride ourselves on each First Stop garage being a trusted part of the community in which they are based. This is a very clear example of this and we extend our congratulations to everyone associated with the scheme."