Highways Agency and WheelRight trial drive-on tyre pressure sensor at Keele Services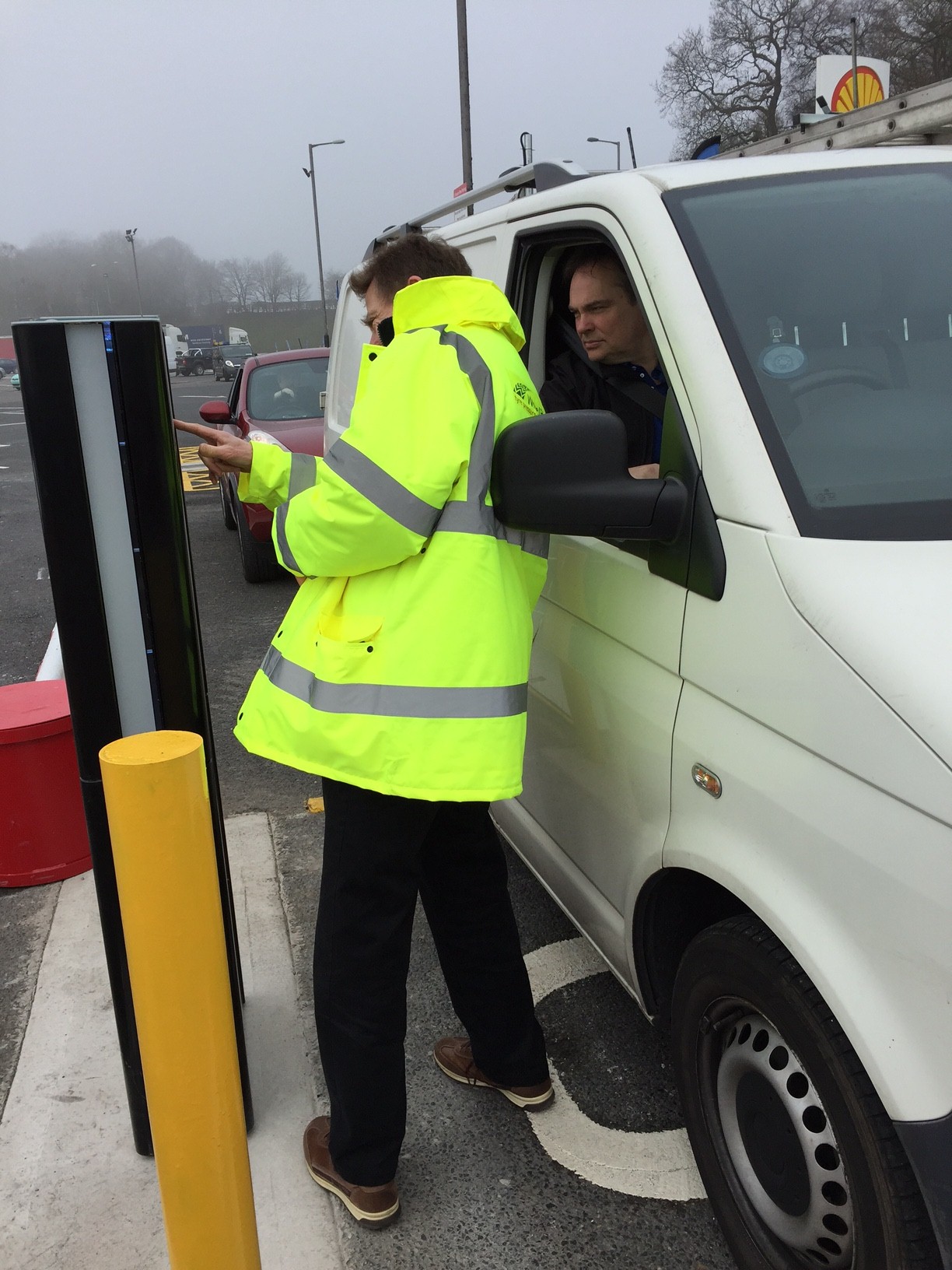 WheelRight and the Highways Agency are trialling a drive-over tyre pressure measuring system at Keele Services between junctions 15 and 16 of the M6 (southbound) in what is thought to be a world first. The pilot scheme, which is running in association with motorway services firm Welcome Break, centres on a novel system that measures tyre pressure without any on-board equipment and without drivers having to leave their vehicles.
The trial, which runs for 13 weeks, is designed to provide an insight into the state of the nation's tyres, while providing car and HGV drivers with a quick and easy way of checking their vehicles' tyres.
According to the Road Safety Observatory, the UK sees approximately 25 deaths and nearly 1,500 serious accidents every year attributed to poorly inflated or defective tyres. According to the Highways Agency, there are a total of 3600 tyre-related incidents each year. Most of these aren't so serious, but they are seriously disruptive and very costly to the country as a whole – both in terms of time and economically.
The three-month pilot scheme of WheelRight tyre pressure monitoring system began on 25 March. It is the first time the UK-developed technology will be publicly available for use by both car and HGV drivers.
Two WheelRight systems will be installed at Keele, one in the HGV area and another for car and van motorists. A team from WheelRight and the Highways Agency will be available to answer driver's questions regarding the importance of maintaining correct tyre pressures and how to use the system. Results are available automatically either on a touch screen or paper print-out. Should tyres require immediate attention; drivers will be able to use the nearby air compressors at Keele Services.
Located just off the southbound M6 at Keele Services, the trial will provide free tyre pressure monitoring for both cars and heavy goods vehicles (HGVs), demonstrating the sheer versatility of the technology that operates, without fitting any equipment to the vehicle.
The importance of correctly inflated tyres should not be underestimated. Police forces across the country recently found that a staggering 86 per cent of cars involved in accidents had at least one incorrectly inflated tyre, according to an RAC report. This is supported by recent data released by WheelRight, which revealed that more than 1 in 8 (or 12 per cent) of cars tested by the technology were found to be 'significantly' under-inflated. This data was taken from a data sample of 500 vehicles at an industry event in late 2014. WheelRight's mobile monitoring device took pressure readings of approximately 2,000 tyres at Seeing is Believing, an event organised by Highway Magazine and sponsored by the Highway Agency. Something similar is set to happen at April's CV show at the NEC in Birmingham.
John Catling, WheelRight's chief executive, said: "The Highways Agency have identified tyre pressure under-inflation as a major cause of accidents on the UK's roads. We are delighted to be partnering with them to deliver automatic, free tyre pressure checks for commercial and private drivers at Keele.  The simplicity, ease, convenience and speed of the WheelRight system will encourage drivers to check their tyre pressure's more regularly, without the need to get out of the vehicle".
Click here for further background information on WheelRight.